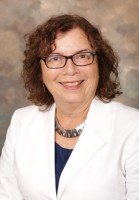 Dr. Eva Garin is a Professor who has served as the Director of the Center for Excellence in Teaching and Learning. Dr. Garin's research interests focus on professional development of teachers and professors, PreK to 16 that leads to increased student achievement. She is also very interested in literacy and teaches courses to prospective teachers on how to assess reading development and teach reading and study skills.
Dr. Garin is a frequent presenter at the American Educational Research Association (AERA) and the National Association for Professional Development Schools (NAPDS). She has also presented at the Teaching Professor, the American Association of Colleges of Teacher Education (AACTE) and the International Reading Association (IRA). She has published numerous articles and book chapters on professional development schools, literacy and action research.
Mrs. Fran Thorn, is the CETL Administrative Assistant and has worked for the University since 2011. She specializes in supporting the CETL Director in the daily operations of the CETL office and organizing events offered to BSU Faculty. She serves as a Maryland State Notary Public and offers services to Students, Faculty, Administrators and Staff.