C4 Bids Farewell to Chair and Goodbye to One, Both Founding Members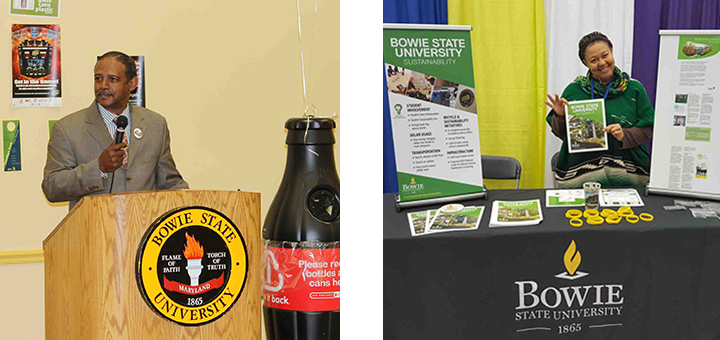 The Climate Commitment Coordinating Committee (C4) held its final meeting of the semester -- and the final meeting for the only individual to have served as C4's committee chair, Dr. Karl Brockenbrough -- on Tuesday, December 12, 2017. Dr. Brockenbrough, VP of Administration and Finance -- who is leaving the university in January 2018 -- was an original founder of the Climate Commitment Coordinating Committee.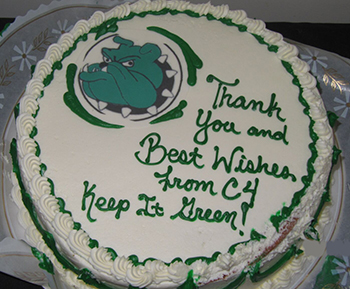 Former BSU President, Dr. Mickey L. Burnim, appointed Dr. Brockenbrough as chair when the committee was first formed in 2007. During Dr. Brockenbrough's tenure at BSU, he has overseen several accomplishments and annual events, campus improvements and additions in sustainability (including the present large-scale solar installation and construction of two LEED Certified buildings), and has been a resource in Bowie State's signing of additional pledges such as the Climate Leadership Commitment of 2016.
The meeting featured updates on the energy dashboard slated for the CNSMN, the newly opened Student Center Quad, the revised Climate Action Plan, ongoing C4 signage and a moment of silence and reflection of C4 founding member, Ms. Cornelia Brooks.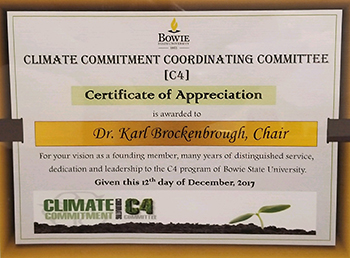 Ms. Cornelia Brooks, lecturer in the Department of Psychology passed in November 2017. She was a gentle spirit, beloved professor and member of C4. She was one of the faculty representatives in the Association for the Advancement of Sustainability in Higher Education (AASHE) Conference held in Baltimore in 2016 and was one of the key members integral in the 'Plant Your Own Seeds' projects held during the Spring.