Shred Day 2019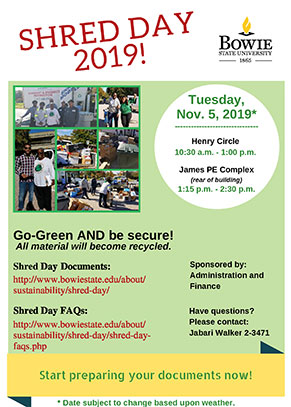 Next Shred Day
Our next annual Shred Day was tentatively scheduled for November 2020. However, due to the restrictions of visitors and vendors on campus as well as decreased current demand, this year's event will be postponed. See below for details of the 2019 event.
---
The 2019 Shred Day held on November 5, 2019 proved to be another successful event along with nice weather. The BSU community disposed of old files, records and other paper items from across the campus along with personal items. Although an annual event, this year there was a major difference by incorporating TWO locations for shred drop offs as the trucked moved from Henry Circle to the back of James PE Complex (near Parking Lot J) to accommodate the Athletics Department and other departments near James PE Complex. Once again, the 12,000 lb capacity truck was near capacity with nearly 11,900 lbs of paper or the equivalent of 6 tons! A special thank you is given to Facilities Management for their hard work in making sure boxes were picked up, brought to the truck, emptied and boxes broken down. The cardboard boxes were also recycled by our campus vendor, ABM.
The paper collected is shredded and later manufactured into recycled paper.
See below for proper forms and links regarding Records Disposal
*Please DO NOT use a separate sheet for each box
Refer to the Disposal Schedule for the following divisions:
Academic Affairs
Administration & Finance
Admissions, Records & Registration
Business & Finance
Business Services
Facilities & Public Safety
Human Resources
Student Affairs
Check this link for questions regarding Shred Day: Shred Day FAQs