Visual Communication & Digital Media Arts Major
Tewodross Melchishua Williams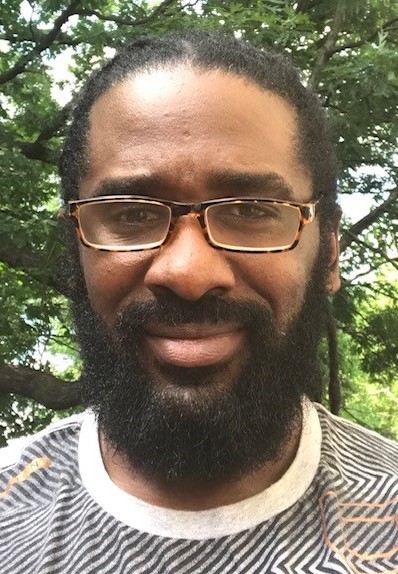 Areas of expertise and research: 2D Animation, Motion Graphics, Filmmaking, Cinematography, Video Editing, Compositing, Video Art, Projection Design, Design, Hip-Hop Studies, Internships, Portfolio, Afrofuturism, Visual Culture, Senior Thesis Exhibition
Tewodross "Teo" Melchishua Williams (pronounced Tee-oh-droze Mell-keshu-ah) is a filmmaker, animator, visual artist, motion graphics and projection designer from Prince George's County, Maryland. He completed his B.A. in Fine Arts: Photographic Media at Morgan State University and his M.F.A. in Imaging and Digital Media Arts at University of Maryland, Baltimore County (UMBC). He also previously taught visual communication, design, animation and motion graphics at Howard University and Prince George's Community College.

Currently, he serves as an associate professor and program coordinator of visual communication and digital media arts program (VCDMA) and teaches courses in 2D animation, history of animation, motion graphics, digital cinematography, film/media production, visual culture, hip-hop studies and contemporary art/design. His current research and interests include advances in filmmaking, animation, motion graphics and production, hip-hop studies, visual culture, afrofuturism, science fiction, projection design/mapping, installation, filmmaking, VR/AR, product and industrial and sustainable design.

His animation, art and films have been shown to audiences nationally and internationally. He has also been a featured speaker and consultant on several workshops, panels and television programs discussing issues and topics such as digital art & multimedia, design, animation, filmmaking and the cultural and historical aesthetics of the moving image as it relates to the African diaspora, design, technology, hip-hop studies and diversity in the fields of film and animation.

He received a Fulbright-Hays Seminars Abroad Fellowship that allowed him to travel to Senegal and Morocco. He also has participated in research projects with high school students in Israel. Most recently he was part of a study abroad experience and visit to Ethiopia with students and faculty in the School of Business at Bowie State University, to focus on African and African American business, trade and investment opportunities.

Tewodross has received numerous awards and recognition for his work in video and animation such as The SONY Innovator's Award in Animation; Sony Corporation, New York, NY, First Place for Animation from The Maafa Film & Video Festival, Brooklyn, NY, The Paul Robeson Award in Film and Video, Newark Museum of Art, Newark, NJ, The Annual Rosebud Independent Film & Video Competition, Washington, DC, The National Black Programming Consortium's Prized Pieces, Columbus, OH. Most recently, his films were screened at The DC Black Film Festival, Urban Media Makers Film Festival, African World Film Festival, Heritage Film Festival and the Iconaclast Film Review.

He also curated the hip-hop based exhibition, M3: MCs, Mics and Metaphors, which was exhibited at Flashpoint, The Congressional Black Congress and Busboys and Poets in Washington, DC. He has served as a creative consultant on various film/video, design and animation productions, and mentors younger animators and filmmakers. He was the illustrator for children's book Shango's Son.

He also has produced animation, visuals and video projections for theatrical productions such as New Nation (Convergence Theatre Group), Happy Ending, RS24, Driving Miss Daisy (All About the Drama Theatre Group); The Pitmen Painters (1st Stage Theater), Caesar & Dada (Avant Bard), The Thunder Thigh Review, Paige In Full, Liner Notes (B-Fly Entertainment), Slam Theatre 1.0, Where My Girls At? and Galactic Ritual: A Hip-Hop Theatre Experience ft. SA-ROC and Sol Messiah, and Sole Defined and many others. Many of these productions received positive reviews, critical acclaim and were Helen Hayes nominated and/or recommended.

He co-wrote the multimedia performance, and created videos and video projection for Nacirema (Artistic Blind Date, Source Theater) and created produced video remixes and serves as resident VJ for the Shaolin Jazz – the 37th Chamber project (a mixtape of Wu-Tang Clan with Blue Note and other jazz musicians) produced by Gerald Watson and DJ 2-Tone Jones. Some of these venues have included the Kennedy Center, The Atlas Theater, Anacostia Community Arts Center, Anacostia Playhouse, Imagination Stage, Studio Theater, Source Theater and The Dance Place.

He was a featured artist and apart of the Kennedy Center's One Mic: Hip-Hop Worldwide Festival and also a designer for Cinderella: The Remix. He also participated in the Emmys Television Academy Faculty Seminar (2017) and continues to work with students and alum in the areas of filmmaking, animation, projection design and more.
Most recently, he produced opening titles sequences for BET+ HER presents The Couch for short films that focused on mental health awareness, "Everything Is Fine" directed by Victoria Rowell and "Baby Blue" directed by Kim Fields. He also served as a production designer on the forthcoming, feature-length film "The Available Wife" produced by BSU alumna, Tressa "Azarel" Smallwood and her company MegaMind Media. This film will premiere at The American Black Film Festival (ABFF). Professor Williams worked along with other BSU students in the VCDMA program, who served as production assistants for the film. He also produced motion graphics design for Tressa's film "All In" that aired on BET. He created animation and motion graphics for the short film production "As Above" directed by Sewra Kidane.

Currently, he is working on feature-length and short film and animation productions through his film and digital media studio collective Visual Jazz, located in the Gateway Media Arts Lab located in Mount Rainier, just in the Gateway Arts District of Prince George's County. He is a proud member of AIGA (DC Chapter), The Television Academy, Creative Edge Collaborative of Prince George's County, and Kappa Alpha Psi Fraternity, Inc.
Courses Taught and/or *currently Teaching:
VCDM 230 Introduction to Computer Graphics
*VCDM 219 Portfolio Review and Assessment I
VCDM 340 Intro To Visual Communications
VCDM 341 Advanced Visual Communications
*VCDM 360 Digital Cinematography I
*VCDM 361 Digital Cinematography II
VCDM 394 History of Animation
*VCDM 396 2D Digital Animation I
*VCDM 397 2D Digital Animation II
*VCDM 419 Portfolio Review and Assessment II
*VCDM 408 Visual Culture
VCDM 450 Multimedia Workshop: Web Design and Digital Media
VCDM 470 Self Promotion and Marketing in the Arts
*VCDM 475 Advanced Digital Studio: Filmmaking, Animation & New Media
VCDM 495 Advanced Digital Imaging: Topics in Design and Digital Imaging
*VCDM 491 Internship in Art and Visual Communication
*VCDM 498 Senior Thesis Exhibition
*VCDM 499 Independent Study
Sites: Visual Jazz | Vimeo | Coroflot
Contact
Office: FPAC RM 2130
Phone: (301) 860-3731
tmelchishua@bowiestate.edu
Follow us @vcdma | vcdma empowers