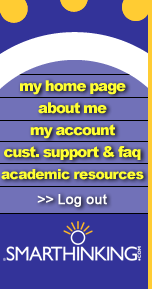 Once you are logged in, you will find various tabs on the left-hand side of the page or along the top
my home page brings you back to your SMARTHINKING home page.
about me opens the form completed at registration and allows you to change your personal information and time zone
my account provides access to information about your use of SMARTHINKING
cust. support & FAQ provides access to information that will help you solve any problems that arise when you are using SMARTHINKING
academic resources provides access to the SMARTHINKING Writer's and ESL Writer's Handbooks, an Accounting Glossary, a Study Guide Handbook, and links to other sites that provide support for students studying mathematics.
Log out allows you to log out of your account when you are finished using SMARTHINKING.
In the center of the screen, your options for tutoring are displayed:
connect with an e-structor now! Is used when you want live tutoring right away.
submit your writing is used to send an essay or paper draft to an e-structor for review.
schedule a personal session is used when you want to make an appointment for future tutoring. If you know that you cannot make a scheduled session, you MUST CANCEL IT WITHIN 48 HOURS of the appointment time in order for your login account to not be charged for it.
submit a question is used when you would rather wait for a response to your question then take the time for a live session.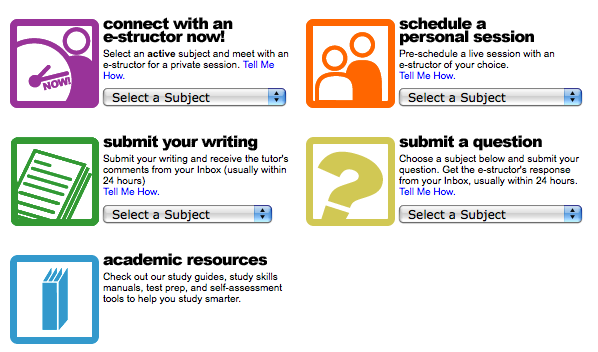 Near the bottom of the screen, you will find my file cabinet. Your SMARTHINKING file cabinet contains transcripts of your online sessions, copies of responses to questions you have submitted, and reviews/critiques of papers and essays submitted to the Essay Center.

REMEMBER: Each student using SMARTHINKING should be prepared and ask specific questions to the "E-Instructors" to use their time efficiently during the SMARTHINKING sessions.