Honorary Degree Recipient
Herbert "Herb" Douglas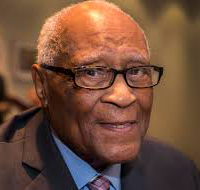 Herbert "Herb" Douglas, the oldest living African-American Olympic medalist today, is responsible for many breakthrough advances in sports, the corporate world and in civil rights. He is a world-renowned athlete, an accomplished businessman and generous philanthropist, whose efforts have touched the lives of athletes, dignitaries and people around the globe.

Douglas was just 26 years old at the 1948 Summer Olympic Games in London, going on to win the bronze medal for a 24-foot, 8.75-inch long jump. In spite of Jim Crow laws forbidding any interracial competitions, his passion for sports led him to integrate his Taylor Allderdice High School basketball team, earning an athletic scholarship to Xavier University of Louisiana and winning a national title in 1942 as part of the 440-yard relay team, a first for a team from a historically black college or university.

Douglas went on to become a skilled businessman in the wine and spirits industry and one of the first African-American vice presidents of a national company. In 1980, Douglas founded and led the International Amateur Athletic Association and established the Jesse Owens Foundation, as well as the Jesse Owens International Athlete Trophy that is presented annually to world-class athletes.

He was inducted into the Pennsylvania Sports Hall of Fame in 1992 and was selected by Ebony magazine as one 100 Most Successful Black Men.