Bowie State Wins Second Place, $30k Grant in National Quiz Bowl
First Time BSU Team Advances to Finals in Honda Campus All-Star Challenge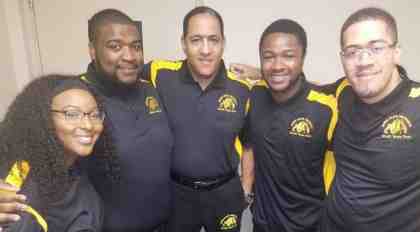 MEDIA CONTACT: Damita Chambers, dchambers@bowiestate.edu, 301-832-2628 (mobile)

(BOWIE, Md.) – A team of four Bowie State University students, competing in a two-day national quiz bowl, took second place and won a $30,000 grant for the university in a tournament featuring 47 other historically black colleges and universities.

The team, participating in the Honda Campus All-Star Challenge (HCASC) from April 9-10, advanced to the Elite 8 round in a single-elimination playoff after beating Benedict College on Sunday. Bowie State defeated Prairie View A&M University in the semifinals and Tuskegee University in the quarterfinals before falling to Oakwood College in Monday's championship match-up.

Team coach Robert Batten was honored as Coach of the Year for his leadership and commitment to preparing the team for the national tournament. One student, Ibukun Ayo-Durojaiye, was named one of eight All-Stars for being the highest-scoring player in the division.
Batten praised the team for its preparation and hard work to advance to the championship round. "The students met the expectations of co-coach Monika Gross and me. We knew we had a championship caliber team, and they played like champions."

The students representing Bowie State were:
Carroll Reed III (team captain), senior, computer science major
Ibukun Ayo-Durojaiye, senior, mathematics major
Jahlil Bennett, senior, government major
Kayla Rayford, senior, biology major
The tournament, held in Torrance, California, near Los Angeles, annually brings together 48 HBCU teams to compete in a fast-paced game played in a modified round robin format. The top two teams in eight divisions advance to the Sweet 16 single-elimination playoff. The final two teams compete for the grand prize of $75,000 for their schools, while teams eliminated in earlier rounds receive smaller grants.

For the past three years, the Bowie State team advanced to the Sweet 16 round, ending the 2016 tournament with $7,000 in grants.
###

ABOUT BOWIE STATE UNIVERSITY
Bowie State University (BSU) is an important higher education access portal for qualified persons from diverse academic and socioeconomic backgrounds, seeking a high-quality and affordable public comprehensive university. The University places special emphasis on the science, technology, teacher education, business, and nursing disciplines within the context of a liberal arts education. For more information about BSU, visit www.bowiestate.edu.