BSU Students Compete on National Stage at Black Enterprise Hackathon
Cyber Squad Students Build Mobile App That Uses Artificial Intelligence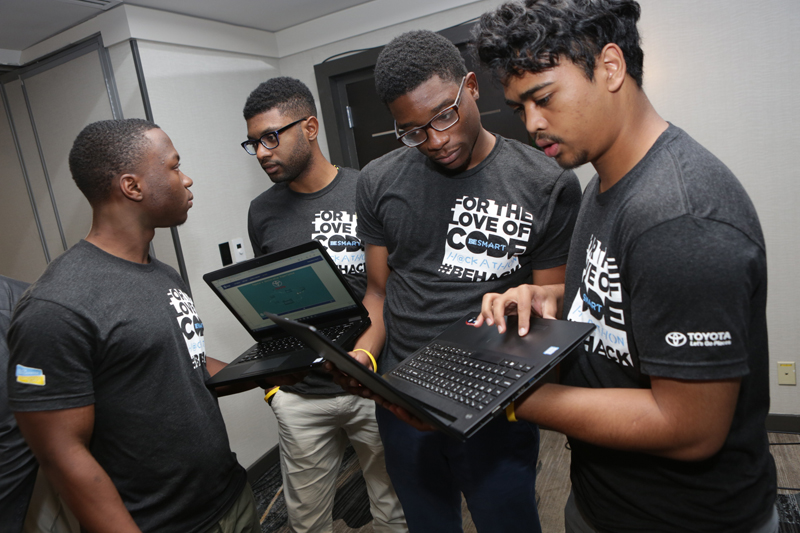 MEDIA CONTACT: Damita Chambers, dchambers@bowiestate.edu, 301-832-2628 mobile

(BOWIE, Md.) – A team of four Bowie State University computer science students, competing against teams from 14 other historically black colleges and universities (HBCUs), developed a mobile app that uses artificial intelligence to improve the car-buying experience as part of the 3rd annual Black Enterprise magazine's 36-hour BE Smart Hackathon, near Silicon Valley, California.

The hackathon, sponsored by Toyota, challenged the 60 HBCU students to work in their teams to develop an interactive app and present them to judges in the technology industry, who assessed the project's estimated impact, innovation, and technical achievement, as well as the students' teamwork and presentation skills. The top three teams presented their apps to individuals attending Black Enterprise's annual BETechConnext Summit, and the winning team won $40,000. All 15 HBCU teams were selected by Black Enterprise to participate in this year's competition. North Carolina A&T State University took home the grand prize for the second year in a row.
The Bowie State students built an app that uses artificial intelligence to help customers interact with Google's personal voice assistant, Alexa, which would answer their questions. The Bowie State team members were: junior Nathan Nti, senior Chevon Nwosu, senior Chadd Philp, and junior Harrison Razanajatovo. They are all members of the Bowie State Cyber Squad, led by Professor Lethia Jackson.

In addition to competing in the hackathon, the 60 HBCU students also visited the headquarters of Google, Intel, and SalesForce, and heard from guest speakers from other top technology firms.

"It was great being around other people of color peers who are doing great things and being successful," said Nwosu, the BSU team captain. "It opened my mind to the fact that we can all achieve success, and I want to meet my potential."


###
About Bowie State University
Bowie State University (BSU) is an important higher education access portal for qualified persons from diverse academic and socioeconomic backgrounds, seeking a high-quality and affordable public comprehensive university. The university places special emphasis on the science, technology, cybersecurity, teacher education, business, and nursing disciplines within the context of a liberal arts education. For more information about BSU, visit www.bowiestate.edu.