BSU Tech Students Gain Industry Experience in Summer Campus Internship
Internship Program Gives Students Competitive Edge
MEDIA CONTACT: Damita Chambers, dchambers@bowiestate.edu, 301-832-2628 mobile
(BOWIE, Md.) – A group of Bowie State University students is spending the summer hard at work in battle – but not the perilous type of battle you might think. Sixteen undergraduates majoring in computer technology are tackling real-world issues in BATTLE – the Bowie Applied Technology Training Laboratory Experience. The program is another example of the university's efforts to produce the next generation of leaders in technology fields.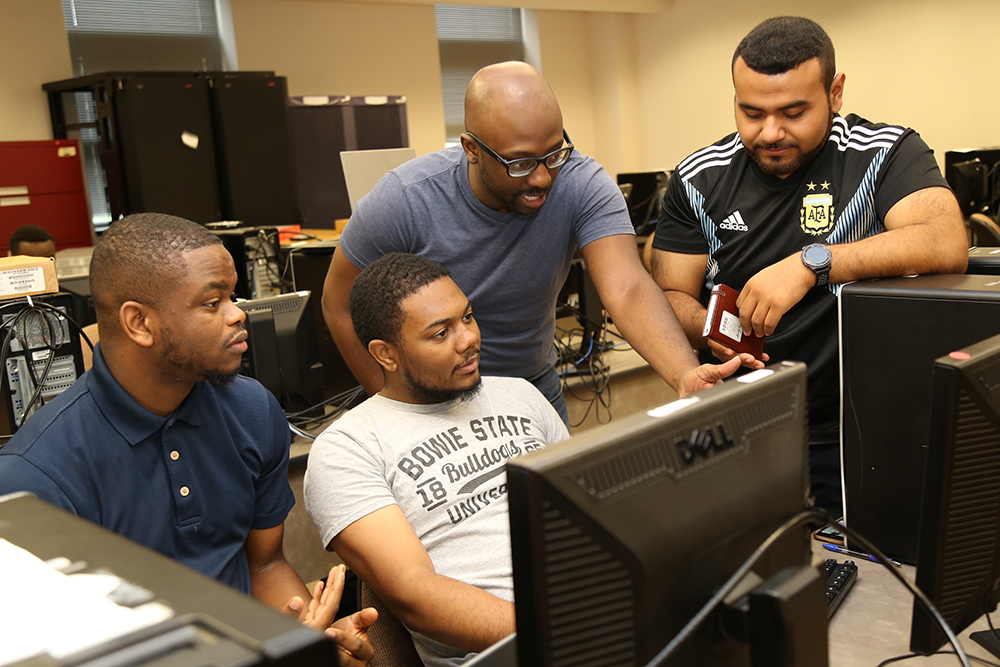 The program, a five-week paid internship led by Professor Clarence Ray in the Department of Technology & Security, offers hands-on learning in advanced network technology through a series of interactive case studies. Each week the interns are given a project that they then research, design and build. "We expose them to every aspect – whether it's networking, virtualization, clouds, cybersecurity – they will leave here with a strong foundation that they can build on," Ray said.

At the end of the program, the interns will know how to build a network, protect it with cyber security protocols and utilize it with cloud computing. Ultimately, they are being prepared to enter the technology industry as experts with an in-demand skillset.

In addition to the networking skills they amass, the students gain crucial life skills like problem solving and time management. Throughout their process, interns encounter glitches and complications that they must analyze and fix by a given deadline. "We can't teach them everything in five weeks," Ray said. "But success in this field comes from having the right attitude to work through problems."
###

About Bowie State University
Bowie State University (BSU) is an important higher education access portal for qualified persons from diverse academic and socioeconomic backgrounds, seeking a high-quality and affordable public comprehensive university. The university places special emphasis on the science, technology, cybersecurity, teacher education, business, and nursing disciplines within the context of a liberal arts education. For more information about BSU, visit www.bowiestate.edu.