Two BSU Cyber Squad Students Take First Place at IBM Hackathon
Students Develop Tech Innovations, Like a Mini-bot, to Solve Everyday Problems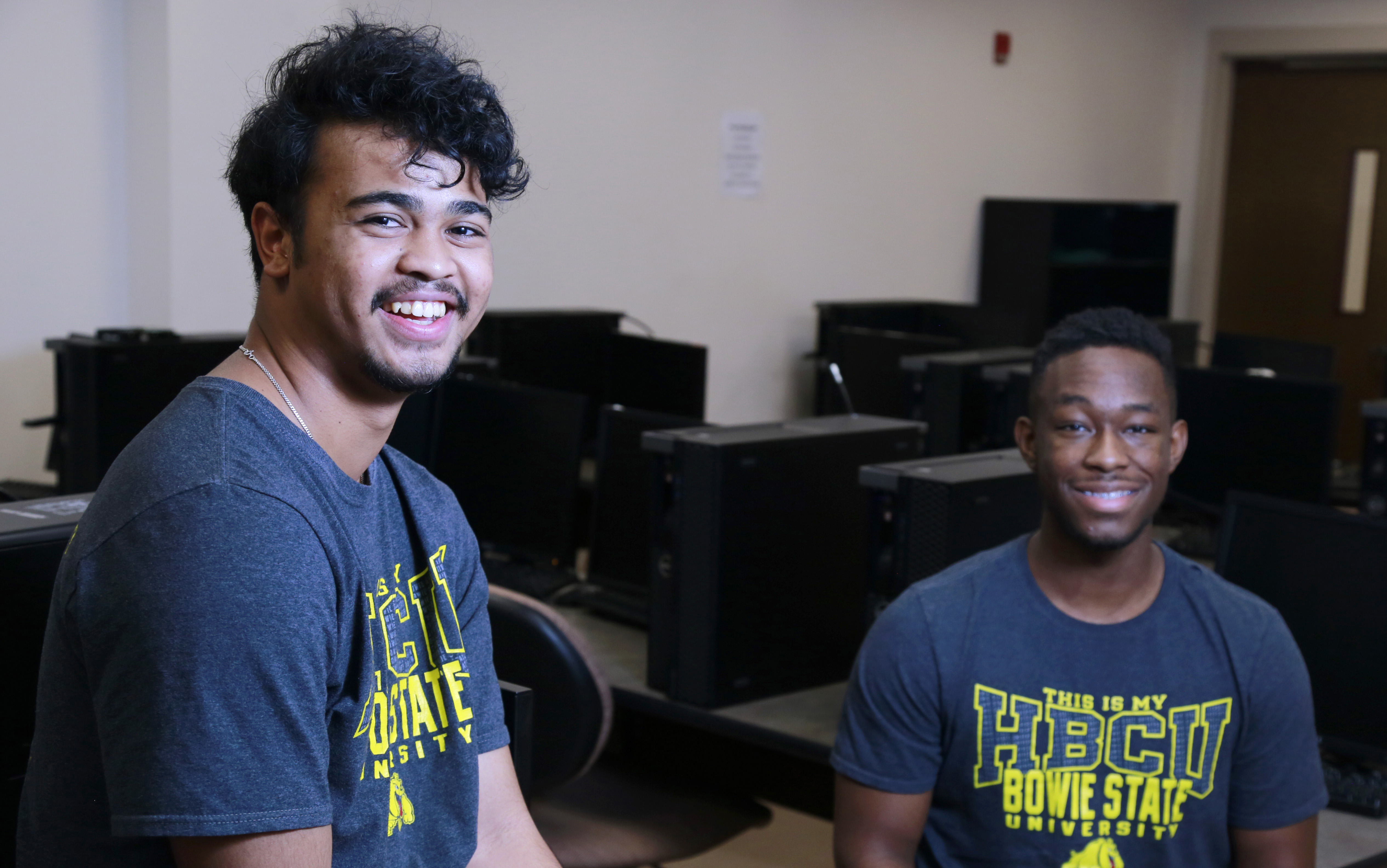 MEDIA CONTACT: Damita Chambers, dchambers@bowiestate.edu, 301-832-2628 mobile

(BOWIE, Md.) – Two members of Bowie State University's Cyber Squad took first place on teams that competed in an exclusive IBM BlueHack for students from historically black colleges and universities (HBCU), designing and pitching their ideas for innovative technology to solve everyday problems.

The Nov. 27-28 hackathon in Raleigh, North Carolina, provided an opportunity for about 100 students, divided into teams of four to six, to come up with an idea of how to use emerging IBM technology to develop a new invention. Each team then developed a prototype of their idea and presented their innovation to a panel of IBM judges in a SharkTank-style competition, where they also provided a demonstration.
Louers's team developed a mini-bot that would act as a hotel concierge, using artificial intelligence technology to perform like Google's Alexa or Apple's Siri to meet the requests of guests. Razanajatovo's team designed a water sensor device that would display measurements of water usage throughout your home. The BSU students – seniors Jaron Louers (computer technology), Nathan Nti (computer science) and Harrison Razanajatovo (computer science) – are members of the university's Forensic Information Technology Cyber Squad, led by Dr. Lethia Jackson, chair of the Department of Technology and Security. Each of the BSU students participated in separate teams – Louers and Razanajatovo were on teams that each won first place in their divisions.
Louers, who participated in the BlueHack for the first time, received valuable insights from his experience. In addition to working with his teammates to develop a new innovation, he also learned new technologies and met IBM tech experts.

"I liked the fact that they put you in random teams, so you got to work with people who you never met before," Louers said. "I was really impressed by all the different skills of the students there. I was learning a lot of the technology from scratch. I am hoping to land a job with IBM."
###

About Bowie State University
Bowie State University (BSU) is an important higher education access portal for qualified persons from diverse academic and socioeconomic backgrounds, seeking a high-quality and affordable public comprehensive university. The university places special emphasis on the science, technology, cybersecurity, criminal justice, teacher education, business, and nursing disciplines within the context of a liberal arts education. For more information about BSU, visit www.bowiestate.edu.