Baltimore Business Journal Ranks BSU Among Fastest-Growing MD Schools
Growing Awareness of Bowie State's Educational Value Led to Increases in Applications & Enrollment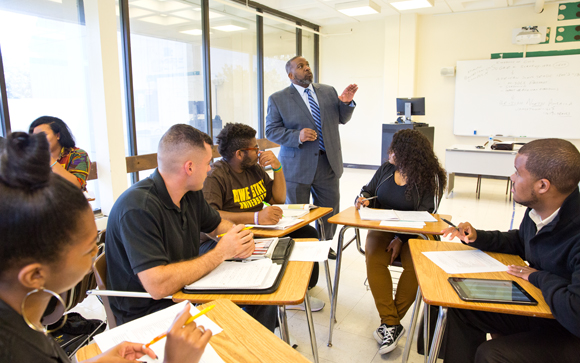 MEDIA CONTACT: Damita Chambers, dchambers@bowiestate.edu, 301-832-2628 mobile

(BOWIE, Md.) – A growing awareness of Bowie State University's high-quality educational experience has led to a sharp increase in applicants and student enrollment in the last five years, making Maryland's first historically black university the third fastest-growing college or university in the state, according to the Baltimore Business Journal.

From FY2013-FY2018, Bowie State has seen a 13-percent increase in the overall student population, with a total enrollment of 6,171 in fall 2019. According to the ranking, Bowie State is one of six of Maryland's 22 four-year colleges and universities that have experienced an enrollment increase in the last five years.

Since 2015, the university has enjoyed several years of record-high enrollment – both in total student body and freshman class size. In fall 2018, Bowie State experienced its largest-ever total enrollment of 6,320. The university had a historic freshman class of 1,027 in fall 2017, nearly double the size of the freshman class in 2015.

The number of Bowie State undergraduate applicants has also exploded in recent years. Undergraduate applications jumped nearly fourfold to 15,744 in 2018, compared to the number of undergraduate applicants just four years earlier. The university had a 35-percent boost in undergraduate enrollment from 2015-18.

With the increases in enrollment, student retention is a top priority. In 2018, 70-percent of first-time, full-time students returned to BSU after their first year, an increased second-year retention rate over the previous year. Supportive academic programs and small class sizes, along with nurturing faculty and staff, provide Bowie State students with an environment that encourages students to be actively engaged in their learning.

The institution also continues to climb or newly appear in published national rankings, including being listed #2 best-value public historically black colleges and universities (HBCUs) by Money.com. BestColleges.com named Bowie State #3 among top HBCUs.
###

About Bowie State University
Bowie State University (BSU) is an important higher education access portal for qualified persons from diverse academic and socioeconomic backgrounds, seeking a high-quality and affordable public comprehensive university. The university places special emphasis on the science, technology, cybersecurity, teacher education, business, and nursing disciplines within the context of a liberal arts education. For more information about BSU, visit bowiestate.edu.