Bowie State Names College of Business Dean
Dr. Lawrence McNeil Brings Strong Record of Improving Student Success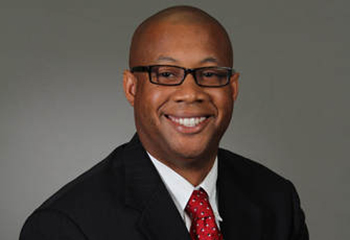 MEDIA CONTACT: Damita Chambers, dchambers@bowiestate.edu, 301-832-2628 mobile

(BOWIE, Md.) – Bowie State University has named a new College of Business dean, with a proven record of improving student success, enrollment and retention in business programs. He will assume his role on Dec. 16, 2019.

Dr. Lawrence McNeil will serve as the college's chief administrative and academic officer of the three departments, as well as the undergraduate and graduate programs. The College of Business programs recently had their full accreditation reaffirmed through 2029, meeting the rigorous standards of excellence required by the Accreditation Council for Business Schools and Programs (ACBSP).

He comes to Bowie State from Prairie View A&M University, where he oversees the Innovation and Entrepreneurship Program he co-founded in the College of Business and is an associate professor of economics. Additionally, he previously served as interim assistant dean and director of graduate business programs.

"It is an honor to be named the next College of Business Dean at the historic Bowie State University. I am most excited about the opportunity to provide leadership and support to College of Business students as they journey towards academic and career success," said Dr. McNeil. "As dean, I look forward to building on the college's strengths by leveraging growth opportunities in areas, such as data analytics and entrepreneurship, and expanding the college's global footprint by ensuring the creation of meaningful study abroad experiences."

Dr. McNeil has traveled extensively as a scholar and administrator. He is a Public Policy and International Affairs Fellow, former delegate to the International Achievement Summit in Budapest, Hungary, and a Fulbright Scholar who researched economic development through international trade in Accra, Ghana. He also organizes annual study abroad experiences for Prairie View students in South Africa and Australia.

He has secured significant grant funding from the U.S. Department of Education and the National Science Foundation to further his research and support program development within Prairie View's College of Business. He also initiated and coordinated the university's first Professional Development Program in the College of Business.

Before joining Prairie View, Dr. McNeil was an economist in the International Investment Division of the Bureau of Economic Analysis and bank examiner with the Federal Reserve Bank of New York.

He holds a Doctor of Philosophy degree in economics, with a concentration in international economics and macroeconomics from Howard University, a Master of International Affairs degree, with a concentration in international finance and economic policy, from Columbia University and a bachelor's degree in history from Morgan State University.
###
About Bowie State University
Bowie State University (BSU) is an important higher education access portal for qualified persons from diverse academic and socioeconomic backgrounds, seeking a high-quality and affordable public comprehensive university. The university places special emphasis on the science, technology, cybersecurity, teacher education, business, and nursing disciplines within the context of a liberal arts education. For more information about BSU, visit bowiestate.edu.