Bowie State Joins Five Other HBCUs to Build Data Science Consortium
$100,000 National Science Foundation Grant Funds the Initiative for First Year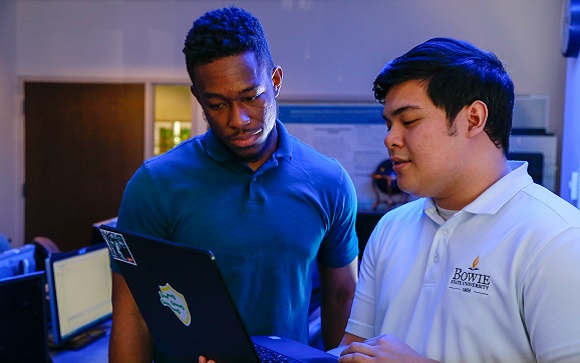 MEDIA CONTACT: Damita Chambers, dchambers@bowiestate.edu, 301-832-2628 mobile
(BOWIE, Md.) – Strengthening the pipeline of diverse data science professionals, Bowie State University joins five other historically Black colleges and universities (HBCUs) to develop a national consortium, bringing together top faculty, researchers and industry partners to boost academic development and research collaborations across the institutions.

Along with Bowie State University, Alabama A&M University, Florida A&M University, Johnson C. Smith University, Morehouse College and Norfolk State University formed the HBCU Data Science Consortium, funded by a $100,000 seed grant from the National Science Foundation (NSF) South Big Data Hub – the program's only large-scale grant awarded this year.

"We are looking forward to collaborating across institutions and disciplines to support programs to prepare data science professionals from diverse backgrounds," said Velma Latson, assistant professor in the Department of Technology & Security and the BSU's lead faculty for the consortium. "It's important for underrepresented communities or communities that are often not part of data science to be able to tell their own stories."

The partner institutions will host the inaugural virtual HBCU Data Science Workshop in February 2021 to assess the needs of faculty and students in to grow their data science programs, as well as provide access to a wide range of experts in panel discussions. Additionally, the consortium will monthly workshops to share best practices and trends in the field. Over the next year, the consortium will also award five mini-grants to help the institutions build their capacity in data science education and research.

"The consortium right now consists of the six institutions, but our goal is to sustain it and support our HBCU communities," said Latson.
###
About Bowie State University
Bowie State University (BSU) is an important higher education access portal for qualified persons from diverse academic and socioeconomic backgrounds, seeking a high-quality and affordable public comprehensive university. The university places special emphasis on the science, technology, cybersecurity, teacher education, business, and nursing disciplines within the context of a liberal arts education. For more information about BSU, visit bowiestate.edu.