Bowie State Receives Largest Gift from Philanthropist MacKenzie Scott
Donation to Support BSU's Viability & Substantially Boost Its Endowment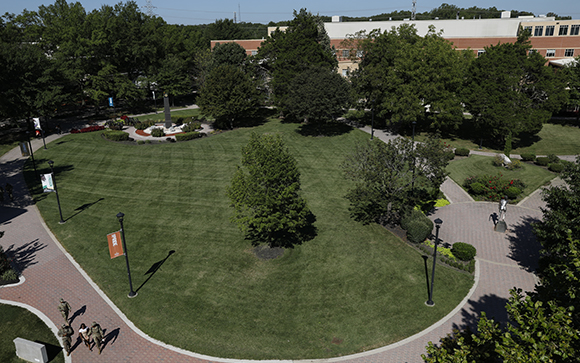 MEDIA CONTACT: Damita Chambers, dchambers@bowiestate.edu, 301-832-2628 mobile

(BOWIE, Md.) – Bowie State University (BSU) has received a gift of $25,000,000 from philanthropist and author MacKenzie Scott, the largest in the university's history.
Bowie State President Aminta H. Breaux confirms that the university is among the institutions referenced in Scott's Medium blog post earlier today, "384 ways to Help," which described her approach to supporting organizations in extraordinary ways in 2020. Scott is contributing $4,158,500,000 to 384 organizations, including Bowie State University, Maryland's first historically Black college and university (HBCU).
"We are so grateful to MacKenzie Scott for her vision that will help transform Bowie State University," Breaux says. "The timing is meaningful as we embark on BSU's largest-ever fundraising effort: The Campaign for Excellence. This gift underscores the urgent need for support of higher education for marginalized communities, as well as BSU's strong and distinctive position to make a dramatic difference."
This gift will serve to ensure the long-term viability of the institution, enabling investment in student financial support, advances in academic excellence and innovation, and substantial increases in the university endowment.
In her blog post, Scott said she chose organizations "with strong leadership teams and results, with special attention to those operating in communities facing high projected food insecurity, high measures of racial inequity, high local poverty rates, and low access to philanthropic capital" among other systemic needs. Scott's selection process distinguished BSU as a worthy philanthropic investment, recognizing the growing momentum and energy guided by the university's Racing to Excellence strategic plan.
"I invite the alumni, friends and family within the Bowie State University community to join Ms. Scott in supporting the mission of the first HBCU in Maryland," said Dr. Breaux.  "It is our hope that others will use the example of Ms. Scott's informed generosity to inspire further giving to BSU, especially in this holiday season. Every gift, no matter the size, is a vote of confidence affirming BSU and its students, and positioning the institution for an incredible future."
###
About Bowie State University
Bowie State University (BSU) is an important higher education access portal for qualified persons from diverse academic and socioeconomic backgrounds, seeking a high-quality and affordable public comprehensive university. The university places special emphasis on the science, technology, cybersecurity, teacher education, business, and nursing disciplines within the context of a liberal arts education. For more information about BSU, visit bowiestate.edu.