Money.com Continues to Rank Bowie State as a Best-value School
BSU is Maryland's Only HBCU on the Best Colleges in America List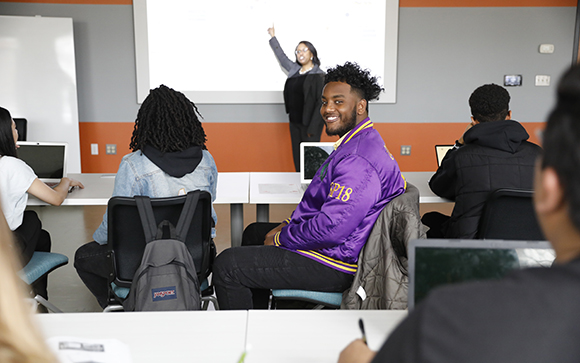 MEDIA CONTACT: Damita Chambers, dchambers@bowiestate.edu, 301-832-2628 mobile

(BOWIE, Md.) – Money.com continues to recognize the competitive value of a Bowie State University education by ranking BSU on its 2020-21 Best Colleges in America list among the nation's top colleges and universities that best combine educational quality with affordability.

Bowie State is the only Maryland historically black university among the state's 15 schools on the list. It is one of only six University System of Maryland's 12 member institutions on the list.

Bowie State ranked #588 overall among the top 739 U.S. four-year colleges and universities that provide students with the most value for their tuition dollars. Money.com ranks the schools on 27 factors measuring educational quality, affordability and outcomes for graduates, which surveys show are the most important to parents and students. Those factors include earnings after graduation, net price of a degree and affordability for low-income students.

In building the ranking, Money.com analyzed data on graduation rates, tuition fees, family borrowing and alumni salaries drawn from multiple sources, including the U.S. Department of Education and PayScale.com. To earn a spot on the list, colleges or universities had to meet the following criteria: have at least 500 students; have sufficient, reliable data to be analyzed; not be in financial distress; and have a graduation rate that is at least the median for its institutional category, either public, private or historically black college or university.

In addition to the Money.com list, Bowie State landed on LendEDU's annual Student Loan Debt Report for having one of the lowest student loan debt figures among the nation's four-year colleges and universities for the Class of 2019, ranking #3 among Maryland schools.

Bowie State University continued to rank among the nation's best comprehensive universities providing students with a high-quality education in a broad range of disciplines. The university previously appeared on Money.com's Best Colleges list in 2017 and 2019, and The Economist magazine has ranked Bowie State as the best value for colleges and universities in Maryland.
###
About Bowie State University
Bowie State University (BSU) is an important higher education access portal for qualified persons from diverse academic and socioeconomic backgrounds, seeking a high-quality and affordable public comprehensive university. The university places special emphasis on the science, technology, cybersecurity, teacher education, business, and nursing disciplines within the context of a liberal arts education. For more information about BSU, visit bowiestate.edu.