$100k Truist Donation Supports Bowie State Students in Need During the Pandemic
Donation Initiates Partnership Between Truist & Bowie State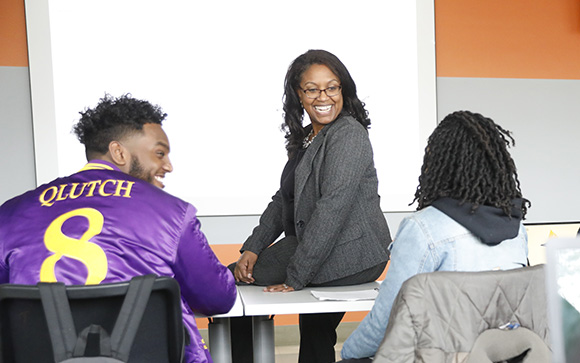 MEDIA CONTACTS:
Damita Chambers (Bowie State University), dchambers@bowiestate.edu, 301-832-2628 mobile
Suzanne Vincent (Truist), media@truist.com

(BOWIE, Md.) – Truist Financial Corporation has made a $100,000 donation to Bowie State University to provide students a lifeline of much needed funds to continue their education during the COVID-19 pandemic.
Truist's gift of emergency aid for students initiates a partnership with Maryland's first historically black college and university (HBCU) to support students experiencing hardships during the pandemic and create opportunities for them to prepare for their future careers. The emergency funding is for students whose needs have been identified through the financial aid process.

"We are grateful for the ongoing partnership between Truist and Bowie State University and for this extraordinary gift that will make an immediate difference for students in need of financial assistance to afford the final few courses of their college education," said Brent Swinton, Bowie State's vice president of institutional advancement. "Joining with our corporate and community partners, like Truist, strengthens Bowie State's impact as an economic and cultural driver in this region and enhances our capacity to develop tomorrow's leaders with innovative education programs."

The partnership will create comprehensive career pathways for students through Truist to include mentoring, internships and employment opportunities.

"Our relationships with HBCUs, like Bowie State University, are very important to Truist, not only as a way to build up our communities, but also as a way to recruit top talent. It's a long-term strategy that shows our commitment to higher education and Bowie State University," said Thomas Ransom, Truist's executive vice president and head of sales and client experience strategy, who leads the company's HBCU initiatives.
###

About Bowie State University
Bowie State University (BSU) is an important higher education access portal for qualified persons from diverse academic and socioeconomic backgrounds, seeking a high-quality and affordable public comprehensive university. The university places special emphasis on the science, technology, cybersecurity, teacher education, business, and nursing disciplines within the context of a liberal arts education. For more information about BSU, visit bowiestate.edu.

About Truist
Truist Financial Corporation is a purpose-driven financial services company committed to inspire and build better lives and communities. With 275 years of combined BB&T and SunTrust history, Truist serves approximately 12 million households with leading market share in many high-growth markets in the country. The company offers a wide range of services including retail, small business and commercial banking; asset management; capital markets; commercial real estate; corporate and institutional banking; insurance; mortgage; payments; specialized lending and wealth management. Headquartered in Charlotte, North Carolina, Truist is the sixth-largest commercial bank in the U.S. with total assets of $504 billion as of June 30, 2020. Truist Bank, Member FDIC. Learn more at Truist.com.