2022 Bulldog Pitch Competition Winners Announced
Signature Program for the Entrepreneurship Innovation Center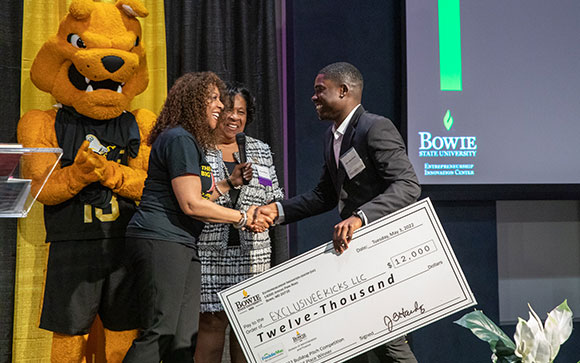 MEDIA CONTACT: David Thompson, dlthompson@bowiestate.edu, 301-860-4311
(BOWIE, Md.) – Bowie State opened a building last fall to house everything and anything entrepreneurial and yesterday announced the new name of the university's main entrepreneurship program. The Entrepreneurship Innovation Center (EIC, formerly the Entrepreneurship Academy) connects a host of experiential learning programs and training opportunities in the Entrepreneurship Living Learning Community and in varied academic classes and co-curricular experiences.
Entrepreneurial education is a priority across BSU's entire campus punctuated by the announcement of the winners of the 2022 Bulldog Pitch Competition which is a signature program for the Entrepreneurship Innovation Center and is open to BSU students of all majors at both undergraduate and post graduate levels. The $12,000 first place winner and crowd favorite winner was Johnathan Gorum, a senior majoring in business. Gorum's Exclusiveekicks LLC., is an aftermarket specialist business providing customers with 100% authentic, limited, and sought-after-items such as shoes, apparel, gaming consoles, and other popular products.
Kenia Best, a junior business major, placed second in the competition with "Your Very Own", a skincare line that enables customers to visit her website to choose the oils, butters, scents, and other ingredients used to create personal skincare products. The third place winner was Agbo Idoko, a graduate student in the college of arts and sciences, developed a web-platform using state-of-the-art machine learning algorithms to produce artworks used to create crypto currency tokens that can be digitally traded.
"We have the Bulldog Pitch Competition to prepare students for the real world," said Johnetta Hardy, Executive Director of the Entrepreneurship Innovation Center. "This isn't 'Shark Tank' but we hope our competition will instill in our students the planning and work that is required to be invited to appear on the ABC Network program or present to other potential investors."
Luke Lawal Jr., a BSU alumnus and founder of HBCU Buzz, was a judge along with Tarek "Terk" Stevens, founder of Terk Entertainment, a company that creates, develops, and distributes content for African American and trans-Atlantic African Diaspora.
Stevens created and co-produced the "Gospel Celebration of Unity" for the Biden-Harris Presidential Inauguration. He gave one of the top finalists in the pitch competition an internship to do data analytics for his entertainment company. Other judges included BSU's Vice President for Administration and Finance, Anthony Savia; Christol Salon and Spa founder Agnes Dianne Williams; and Freddie Mac's chief HR officer, Dionne Wallace Oakley.
"Every year we raise the bar for the Bulldog Pitch Competition which is evidenced by the amount of prize money we award the winners and the judges who come from across the nation to lend their expertise in judging the students' projects," said Hardy.
###
About Bowie State University
Bowie State University (BSU) is an important higher education access portal for qualified persons from diverse academic and socioeconomic backgrounds, seeking a high-quality and affordable public comprehensive university. The university places special emphasis on the science, technology, cybersecurity, teacher education, business, and nursing disciplines within the context of a liberal arts education. For more information about BSU, visit bowiestate.edu.