A+E Networks Partners with Bowie State University to Launch Student Apprenticeship Program
Global content and media company selects one of the nation's oldest Historically Black Colleges/Universities as the inaugural cohort for the fall 2022 – spring 2023 academic year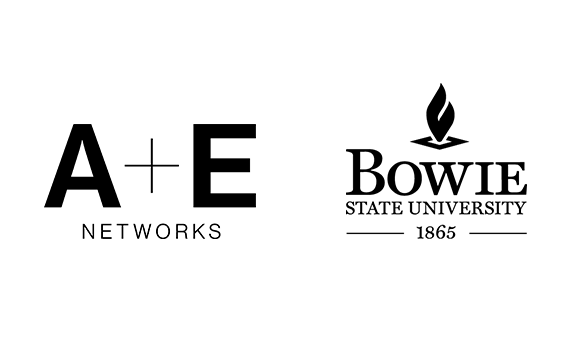 MEDIA CONTACT: David Thompson, dlthompson@bowiestate.edu, 301-860-4311
(New York, Ny. and Bowie, Md.) – Global content company, A+E Networks, has launched its first ever student apprenticeship program in partnership with Maryland's oldest HBCU, Bowie State University. The program will provide Bowie State students with real-world work experience in content creation while lending new perspectives to the creative process at A+E Networks.
The A+E Networks Apprenticeship Program matches eligible Bowie State students with experienced A+E staffers through a remote work experience in graphic design, marketing, digital content distribution, social media creative and digital media production within various departments at A+E. Students will also have the opportunity to learn from executives in the media industry through mentorship, special presentations and hands-on sessions to build professional skills – all while matriculating in their regular class schedule.

The inaugural A+E Networks Apprenticeship program will start in fall 2022 and run through the spring 2023 semester.
"We set out to design a program that would offer students from a range of academic, cultural and socioeconomic backgrounds an opportunity to gain real-world work experience and mentorship in creative fields while completing their degrees," stated Paul Buccieri, President and Chairman of A+E Networks Group. "We wanted students to have a unique opportunity to learn, but also meaningfully contribute to A+E Networks and have a substantial impact on our communications, CSR and promotional campaigns."
"A+E Networks is passionately committed to building an inclusive and high-impact culture that inspires creativity, collaboration, coordination, accountability and trust. The apprenticeship program is one of many steps our organization continues to take to reflect the communities we reach and to promote positive change," added A+E Networks' Chief Human Resources Officer & Chief Diversity Officer, Karen Gray. "Our new flexible work policy has leveled the playing field for students in the apprenticeship program as they join the majority of the A+E workforce who have chosen to work remotely or in a hybrid situation. We look forward to welcoming these students to A+E this fall and to building a sustained partnership with Bowie State."
"We are absolutely elated that A+E Networks selected the university as the first institution of higher learning to launch the apprenticeship program," said Carl Goodman, Provost at Bowie State University. "Students who are chosen to participate in the initiative will gain valuable experience learning form and working with producers, writers, animators, technicians, and other experts. Bowie State looks forward to a long relationship with A+E that will enhance our students' ability to secure positions in the film and media industry," said Goodman.
Bowie students majoring in Advertising Design, Animation & Motion Graphics, Broadcast Journalism, Communications, Marketing and Creative Writing are strongly encouraged to apply. The positions are focused on creative aspects of the media field. Interested students can learn more and apply for the available positions by visiting aenetworksapprenticeship.com
A+E Networks was just named as one of the country's Best Midsize Employers by Forbes for the second consecutive year.
Bowie State University provides high-quality and affordable educational opportunities for students with ambitions to achieve and succeed. In addition to its 23 undergraduate majors, Bowie State offers 19 master's degree programs, 14 specialty certificates and two doctoral programs with specific focus on science, technology, business, education and related disciplines. A supportive academic environment empowers students to think critically, make new discoveries, value differences and emerge as leaders in a highly technical, rapidly changing global society.

Bowie State's Center for Natural Sciences, Mathematics and Nursing includes research and instructional laboratories, flexible classrooms, a nursing simulation wing and a fully enclosed greenhouse. Bowie State is also home to an all-Steinway Fine and Performing Arts Center, equipped with the latest technologies for digital media arts and music production.
###
About A+E Networks
A+E Networks® is a global content company comprised of some of the most popular and culturally relevant brands in media, including A&E®, Lifetime®, The HISTORY Channel™, LMN®, FYI,®, VICE TV® and Blaze®. A+E Networks' portfolio extends across platforms and genres with a scripted production division, A+E Studios™; unscripted production, Six West Media™; and independent film unit, A&E IndieFilms®. A+E Networks Digital™ includes watch apps, games, FAST channels, AVOD, and SVOD products Lifetime Movie Club® and HISTORY Vault®; and podcasts such as History This Week™. A+E Consumer Enterprises™ includes experiential/branded live events such as HISTORYTalks™ and E-commerce; and A+E Networks International® includes branded channels, content distribution and scripted/unscripted co-productions around the world. A+E Networks' content reaches more than 414 million households in 200 territories in 40 languages. A+E Networks is a joint venture of Disney-ABC Television Group and Hearst. Follow us on Twitter at twitter.com/aenetworks and Facebook at facebook.com/AENetworks.
About Bowie State University
Bowie State University (BSU) is an important higher education access portal for qualified persons from diverse academic and socioeconomic backgrounds, seeking a high-quality and affordable public comprehensive university. The university places special emphasis on the science, technology, cybersecurity, teacher education, business, and nursing disciplines within the context of a liberal arts education. For more information about BSU, visit bowiestate.edu.