Bowie State Adds More Science, Technology and Online Degree Programs
University Strives to Respond to Industry and Market Demands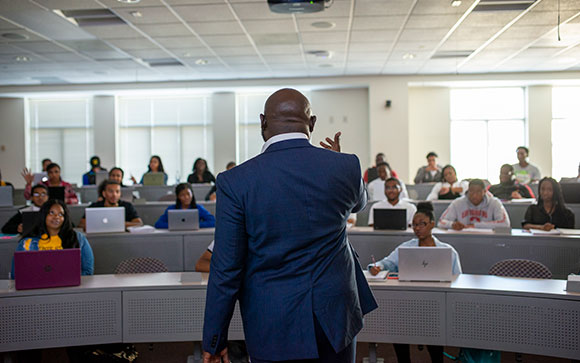 MEDIA CONTACT: David Thompson, dlthompson@bowiestate.edu, 301-860-4311
(BOWIE, Md.) – Students at Bowie State University can now enroll in four new undergraduate programs that are designed to prepare them for positions in the burgeoning technology sector. Applications are now open for students to apply to earn bachelors degrees in cyber operations engineering; data science; software engineering and philosophy, political science and economics (PPE).
Jobs in information and computer technology occupations are projected to grow dramatically between now and 2030 according to the Bureau of Labor Statistics. Projections show that over 667,000 new positions will be created with an emphasis on cloud computing, collection and storage of big data and information security, with an average wage of over $97,000.
"Our goal is to bring more value to our academic portfolio so that potential students think of Bowie State as a university that provides high quality computer science, technology and engineering degree programs along with its established reputation in liberal arts education," said Dr. Carl Goodman, provost and vice president for academic affairs at Bowie State University. "We're committed to ensuring our students are prepared for the new jobs that are becoming available daily in the fast growing STEM sectors of our economy."
Students this fall can also enroll in online degree programs to earn their bachelor, master's or doctoral degrees. BSU students can pursue undergraduate degrees online in computer science, computer technology and criminal justice. A graduate student can earn a master's degree online in computer science, culturally responsive teacher leadership, management information systems, reading education and a doctorate degree in educational leadership.
"We recognize that students now, more than ever before due to COVID, need to have options on how they earn their degrees," said Dr. Goodman. "The online degree programs are primarily designed to attract working professionals to Bowie State and provide them the opportunity to begin or continue their education from anywhere in the nation and around the globe. These are only the initial online degree programs with more scheduled to be available next year," he said.
###
About Bowie State University
Bowie State University (BSU) is an important higher education access portal for qualified persons from diverse academic and socioeconomic backgrounds, seeking a high-quality and affordable public comprehensive university. The university places special emphasis on the science, technology, cybersecurity, teacher education, business and nursing disciplines within the context of a liberal arts education. For more information about BSU, visit bowiestate.edu.