Bowie State Participates in Inaugural A+E Apprenticeship Program
Students Learning as They Work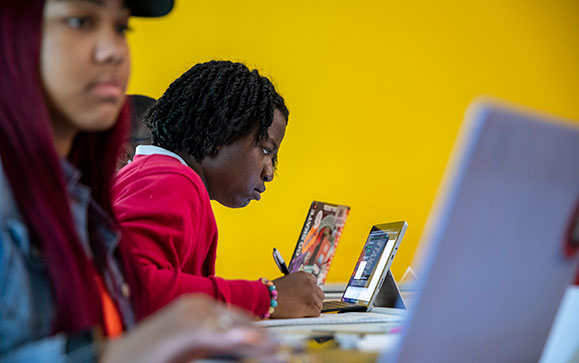 MEDIA CONTACT: David Thompson, dlthompson@bowiestate.edu, 301-860-4311
(BOWIE, Md.) – Ten Bowie State University students participating in A+E Networks inaugural apprenticeship program have connected to begin learning new skills and earn a salary while working for A+E, Lifetime, and the History cable channels. Bowie State is the first college or university in the nation engaged in the program.
"Our students are now working with one of the nation's leading broadcasting companies while they build their portfolios," said Professor Tewodross Williams, chair of the Department of Fine and Performing Arts at Bowie State. "The apprenticeship program with A+E Networks focuses on the creative aspects of the media field and will give our students an extra edge when competing for other internships and full-time employment after they graduate from the university."
The virtual apprenticeship program provides a platform for students to interact with A+E Networks executives through special presentations, talks, and hands-on sessions to help build professional skills. The company set-out to design a program that would offer students from diverse academic, cultural and socioeconomic backgrounds an opportunity to gain real-world work experience and mentorship in a creative field as they pursue their degrees.
"I'm working in the digital media editorial department for the History Channel and absolutely love it," said Marcus Ball, a senior and visual communication and digital media arts major. "What's really invigorating is that I deal with content from around the world and have a team of people to turn to if I have any issues. My managers are very supportive of the work I do, request my input on projects, and even want to know how I'm doing with my coursework here at Bowie State," he said.
Students in the apprenticeship program commit up to 20 hours a week for both the fall 2022 and spring 2023 semesters and are paid $22.50 an hour. Only juniors and seniors ae eligible to participate in the Apprenticeship Program
"A+E Networks is demonstrating its commitment to broadening and diversifying the pool of talented professionals to work in the industry," said Professor Williams. "Our goal at Bowie State is to ensure all students in the apprenticeship program are successful because we want more individuals to apply next year for the 2023 fall cohort.
###
About Bowie State University
Bowie State University (BSU) is an important higher education access portal for qualified persons from diverse academic and socioeconomic backgrounds, seeking a high-quality and affordable public comprehensive university. The university places special emphasis on the science, technology, cybersecurity, teacher education, business and nursing disciplines within the context of a liberal arts education. For more information about BSU, visit bowiestate.edu.