Bowie State Senior Writes "Forever Friends"
New Book Addresses How Teens Can Resolve Their Problems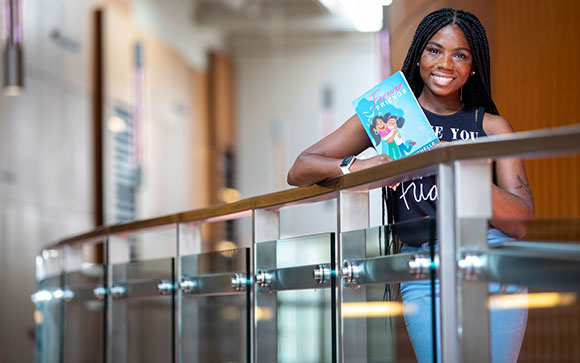 MEDIA CONTACT: David Thompson, dlthompson@bowiestate.edu, 301-860-4311
(BOWIE, Md.) – A new book written by Bowie State senior Kiarah Michelle Williams, "Forever Friends," aims to help young people learn how to better manage conflict and problems that may arise between them. The book is currently available at Barnes and Noble stores across the nation and on Amazon.
"Our society is in a dangerous place right now and I'm hoping "Forever Friends" will inspire and motivate young people to solve their problems through dialogue with each other," said Williams. "The bottom line is that I wrote this book to show people how to problem solve and I believe it all begins with communicating."
Throughout the book, Williams offers advice on how to deal with new conflicts, jealousy, solving problems through communication and eliminating avoidance behavior, all areas that young people and adults need support on.
The print journalism major began thinking about writing the book when she was 13 or 14 years old growing up outside of Baltimore. She had her first manuscript for the book written when she graduated from Joppatowne High School in 2019, but didn't move forward on her project until early in 2021 when she was introduced to a writing coach.
But Williams always gravitated towards writing. She grew up in the AME Church and was an active participant in the Young People's Division (YPD) where she served as editor of the monthly newsletter for four years. "After serving as the YPD editor, I knew I wanted to go to college and become a journalist," she said.
Williams visits schools to speak with students about her book, tells them that problems with friends will not last forever, and that they must be honest and tell their peers how they feel.
"My primary audience for this book is 5th and 6th graders through sophmores in high school," said Williams. "My goal is to always help the younger generations find peaceful solutions to solve problems they may have with their peers and eliminate physical confrontation."
Even though she is a newly minted author, Williams is not resting on her laurels. She just began working with the Baltimore Sun as a freelance high school sports writer. Her ultimate goal is to publish a magazine similar to Cosmopolitan in the future.
"I love to write and "Forever Friends" is just the beginning," she said. I will always be devoted to helping young people solve their problems regardless of where my journalism career takes me."
###
About Bowie State University
Bowie State University (BSU) is an important higher education access portal for qualified persons from diverse academic and socioeconomic backgrounds, seeking a high-quality and affordable public comprehensive university. The university places special emphasis on the science, technology, cybersecurity, teacher education, business and nursing disciplines within the context of a liberal arts education. For more information about BSU, visit bowiestate.edu.