Bowie State University Rolls Out Entrepreneur in Residence Program
Successful Business Leaders Bring Skills to the Entrepreneurship Academy to Help Students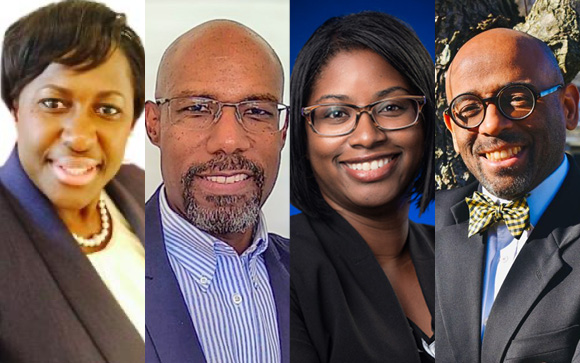 MEDIA CONTACT: David Thompson, dlthompson@bowiestate.edu, 301-860-4311
(BOWIE, Md.) – It's rare when college students have the opportunity to learn how to develop and operate a business from seasoned professionals. That's exactly what is occurring at Bowie State University's Entrepreneurship Academy where four individuals with diverse backgrounds have been named as the first cohort in the new Entrepreneur in Residence (EIR) program.
The EIR program will assist in identifying innovative and promising student startups and support the student businesses when they launch and as they grow. The Entrepreneurs in Residence will counsel and advise students on writing business plans, marketing proposals, creating strategy briefs, business development cases, and preparation for venture capital presentations.
"The Entrepreneurs in Residence are established and very successful business leaders with years of experience and sound business acumen," said Johnetta Hardy, executive director of the Entrepreneurship Academy. "They will work directly with the academy and the Maryland Innovation Extension team to provide advice to Bowie State's students and faculty pursuing innovative ideas."
Each program participant brings different skill sets that will enable them to address the needs of students individually and tailor their solutions rather than offering a one size fits all approach.
Jainaba Ceesay is the founder of Ebrosso Consulting, LLC, a firm that provides business consultation services in the U.S. and internationally. She is also an adjunct professor of entrepreneurship at Bowie State. "My goal is to allow students to take what they learn from the classroom to pursue actionable steps in the real world and create viable innovative business models," she said.
James W. Peterson, Jr., is vice president and business banking relationship manager at M&T Bank. He is an expert in business forecasting, working with banks, developing appropriate strategies on collaborating with state and federal government agencies, and experiential learning. "I have over 30 years of economic and business development experience that I will draw from to provide students with advice on operating a business," said Peterson.
Tyrome Smith, is the director of partnerships at Common Mission Project (CMP), a nonprofit organization dedicated to supporting entrepreneurs who are striving to solve critical national security, civic, and social challenges. In his current position at CMP, Smith develops new strategic relationships with universities and corporate sponsors by providing leadership for the CMP Impact Fund, which provides financial support for student teams looking to scale their mission-focused solutions into sustainable businesses. "This is an opportunity for me to counsel these budding entrepreneurs on effectively managing a business and helping them to understand the steps they must follow to secure financing to expand their new ventures," said Smith.
Eboni Thamavong is a senior technical program manager at Amazon and the founder of Pivot and Sprint, a financial technology company. Thamavong plans to host workshops, one-on-one sessions with students, and publish articles on understanding and actualizing entrepreneurship as an EIR.
"All of the Entrepreneurs in Residence are well established and accomplished business leaders highly skilled in business development," said Hardy. "They are well-versed in the concepts of business model generation, customer discovery, leadership development, and at times will attend panels, talks, and meetings with students and faculty members."
###
About Bowie State University
Bowie State University (BSU) is an important higher education access portal for qualified persons from diverse academic and socioeconomic backgrounds, seeking a high-quality and affordable public comprehensive university. The university places special emphasis on the science, technology, cybersecurity, teacher education, business, and nursing disciplines within the context of a liberal arts education. For more information about BSU, visit bowiestate.edu.