BSU Students Embark on 10-Day Exploration of National Parks
American Association of Geographers Funds National Parks Excursion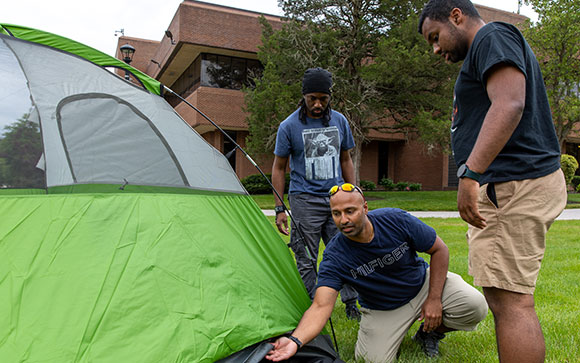 MEDIA CONTACT: David Thompson, dlthompson@bowiestate.edu, 301-860-4311
(BOWIE, Md.) – Classes are over and most college students are preparing for their summer break or graduation, except for 10 students at Bowie State University who are preparing to leave on a 10 day, 1,500 mile camping trip to five National Parks to experience the outdoors, explore the physical geography, history, and cultural landscape in the western United States. Through experiential learning, students will acquire knowledge about geography, national park sites, preparation for outdoor travel, and camping.
"Bowie State received a grant from the American Association of Geographers that will be used to enable students to explore our National Parks," said Dr. Sumanth Reddy, a geography professor at BSU. "The university is one of the first HBCUs to embark on a trip to some of our nations' most coveted and pristine locations to enable students to discover history and explore habitat in nature's classroom," he said.
The national parks system has been referred to as America's best idea, yet not all Americans are able to engage with these valuable national treasures. Recent studies estimate that only 1.2 – 6% of visitors to national parks in the United States are African American, which is considerably lower than the 13% of the U.S. population that is African American.
"In the future, students will be required to create a video, write a paper, blog, or publish on a topic of their choice that is related to what they saw, experienced, and learned on the trip. They will also be eligible to receive 3 - 6 independent study credits in geography," said Professor Reddy.
The students will visit five parks: Great Sand Dunes National Park, Mesa Verde National Park, Grand Canyon National Park, Arches National Park, and Rocky Mountain National Park. They will also visit the Four Corners Monument, which marks the point in the Southwestern United States where the states of Arizona, Colorado, New Mexico, and Utah meet. It is the only point in the nation shared by four states and is maintained by the Navajo Nation.
"African Americans have made major contributions in the Rocky Mountain and desert Southwest regions of the United States," said Professor Reddy. "My goal is to take students to various areas where African Americans are a part of the cultural landscape such as The Black American West Museum and the Five Points Neighborhood in Denver, and the Fort Garland Museum and Cultural Center (Buffalo Soldier exhibit) in Fort Garland, Colorado."
BSU students participating on the 10 day National Parks camping trip are Kevon Allen, a sophomore and elementary education major; Alma Bangura, a junior majoring in government; Zoey Days, a junior biology major; Malaika Dixon, a senior computer science major; Kalil Greenfield Jr., a sophomore history major; Kwari Jackson, a sophomore history major; Ayen Kuol, a computer science graduate student; Rodah Ngorem, a sophomore majoring in nursing; Bridget Oppong, a junior computer technology major; and Mark Sims Jr., a freshman majoring in communication.
###
About Bowie State University
Bowie State University (BSU) is an important higher education access portal for qualified persons from diverse academic and socioeconomic backgrounds, seeking a high-quality and affordable public comprehensive university. The university places special emphasis on the science, technology, cybersecurity, teacher education, business, and nursing disciplines within the context of a liberal arts education. For more information about BSU, visit bowiestate.edu.