Census Bureau Partners with Bowie State to Diversify Data Science Workforce
Students to Benefit from Hands-on Data Project Experiences and Internships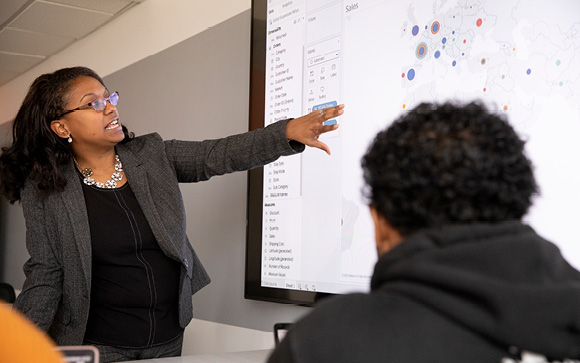 MEDIA CONTACT: David Thompson, dlthompson@bowiestate.edu, 301-860-4311
(BOWIE, Md.) – The U.S. Census Bureau, the nation's leading provider of data about people and the economy, has partnered with the Bowie State University College of Business to provide expertise and resources to support students studying data science and analytics and help build a high-quality, diverse workforce in the growing field.
The partnership will support opportunities for collaboration between the Census Bureau and BSU to increase the number of applicants for internships and career position at the bureau by providing students with direct access to mentors and hands-on experience with real-world data problem sets. Bureau experts will conduct technical lectures on data science topics and provide guidance on curriculum enhancements to assure students meet occupational demands.
"Through this partnership, BSU students will build 21st century knowledge, skills and aptitudes in data science while working on projects using data and analytics products provided by the Census Bureau and our faculty will benefit from access to rich data sources and specialized data tools," said Dr. Azene Zenebe, chair of the Management Information Systems Department at BSU. "The close contacts with industry experts and internships opportunities will position our students for career success."
Companies and organizations increasingly rely on the analysis of data to drive informative decision-making and keep up with the demands and trends of a global economy. With advances in use of data and information technology in all sectors, competencies in data and analytics are becoming essential in all disciplines.
Bowie State's new upper division certificate program in data analytics, just launched in the spring 2022 semester, targets students in all disciplines. It is part of a Data Science & Analytics Initiative to increase the population of women and minorities entering into the Data Science & Analytics workforce. The certificate program is open to juniors and seniors in any discipline as well as students who wish to complement their existing bachelor's degree program and earn the certification within the Data Analytics Concentration.
In collaboration with the Census Bureau, BSU will also work to expand awareness of data products and services that can support the development of small businesses, non-profit and civic organizations through workshops and other training events. The first HBCU Data and Analytics Conference is planned for April 2022.
###
About Bowie State University
Bowie State University (BSU) is an important higher education access portal for qualified persons from diverse academic and socioeconomic backgrounds, seeking a high-quality and affordable public comprehensive university. The university places special emphasis on the science, technology, cybersecurity, teacher education, business, and nursing disciplines within the context of a liberal arts education. For more information about BSU, visit bowiestate.edu.