HBCU in LA Executives Visit Bowie State University
Students Encouraged to Apply for Internships in Los Angeles and New York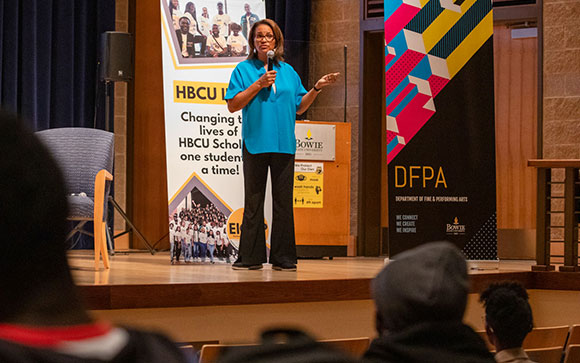 MEDIA CONTACT: David Thompson, dlthompson@bowiestate.edu, 301-860-4311
(BOWIE, Md.) – Students from Bowie State's Fine and Performing Arts Department discovered pathways to opportunities and success in the film industry this week when they met with senior executives from the Entertainment Industry College Outreach Program (EICOP) about HBCU LA.
A Los Angeles-based initiative, HBCU LA is designed to provide underrepresented students the opportunity to participate in 8 – 10-week internships with major studios, networks, talent agencies, and other global creative industry organizations. It started in 2017 with 24 aspiring HBCU students looking to begin careers in the highly competitive Hollywood film industry.
"Our internship program has experienced phenomenal growth," said Stacy Milner, founder of HBCU LA. "In the past five years there have been over 12,500 students to apply to the HBCU LA program, over 50 HBCUs are now participating, and 90 percent of students who are eligible for full time employment after graduating are securing positions in the industry," she said.
Each year EICOP makes annual visits to HBCUs and other predominantly minority-serving institutions to meet with potential interns, answer their questions, and bring its educational career sessions and recruitment opportunities to students and faculty.
Justin Odom, a senior in the Fine and Performing Arts Department, attended a HBCU LA meeting last year and just returned from an 8-week internship program with the Wildcard Creative Group, a media marketing agency in Los Angeles.
"I learned about new animation programs, particularly Cinema 4-D and Adobe After Effects," he said. "But this internship taught me much more than just animation. I was able to help create advertisements, social media, trailers, and other products for filmmakers. My plan is to go back to Los Angeles after I graduate in the spring to pursue my career. I wouldn't even think this way if it wasn't for HBCU LA," said Odom.
A unique aspect of the internship program is the HBCU Student Showcase which enables the interns to collaborate and create content from pitches to market-ready products which are presented to industry executives during the closing program. Student writers, directors, actors, animators, and others have the opportunity to demonstrate their skills and develop relationships with some of the Hollywood's leading firms.
Erica Waddy, a senior and visual communication and digital media arts major, reviewed scripts with senior managers at her internship with AMC Networks. "I still talk to my manager today," she said. "You have to take a chance on yourself and apply to become an intern and be open to the opportunity. It's a phenomenal program!"
Milner said EICOP has expanded HBCU LA internships to include positions with companies in New York. "We're evolving with the industry and providing internships in gaming technology through a partnership with Activision," she said.
###
About Bowie State University
Bowie State University (BSU) is an important higher education access portal for qualified persons from diverse academic and socioeconomic backgrounds, seeking a high-quality and affordable public comprehensive university. The university places special emphasis on the science, technology, cybersecurity, teacher education, business and nursing disciplines within the context of a liberal arts education. For more information about BSU, visit bowiestate.edu.