Kevin Durant and the Durant Family Foundation Commit to Major Investment in Bowie State University
Durant's Donation Will Support Athletic Facility Upgrades and University Athletics Programs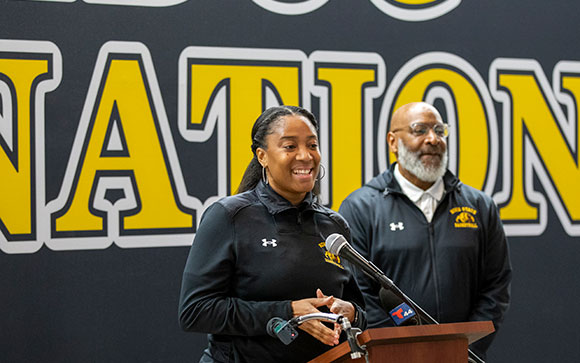 MEDIA CONTACT: David Thompson, dlthompson@bowiestate.edu, 301-860-4311
(BOWIE, Md.) – Prince George's County native Kevin Durant and the Durant Family Foundation have committed to joining the Bowie State University Athletics Department in the transformation of the university's main basketball gym and supporting BSU athletics programs.
"We are dedicated to providing resources and possibilities to students for higher education, especially in Prince George's County," said Wanda Durant, who leads the Durant Family Foundation. "Bowie State was the perfect place to make a meaningful impact."
The foundation has committed $500,000 towards renovations of the basketball arena in the Leonidas S. James Physical Education Complex at BSU. Renovations will include installation of a new basketball court, expansion of seating capacity and upgrades to the press box area. The gift will also provide financial support for men's and women's basketball and university athletics programs. It also will establish a scholarship for Durant Center College Track students who attend BSU.
Bowie State President Aminta Breaux expressed her gratitude for Durant's generosity.
"We're grateful for the resources that Kevin Durant and his family foundation have generously donated to Bowie State University to advance student success in achieving their academic goals," said Breaux. "His contributions will go a long way towards updating our facilities and ensure a top-tier athletic experience for all of our students. The foundation has already built a network of community-centric services within the Durant Center in Prince George's County that is exemplary."
Durant's donation to Bowie State is just the latest in the Seat Pleasant native's philanthropic efforts in Prince George's County. In 2019, Durant's foundation partnered with College Track to establish College Track at the Durant Center in Suitland, MD, to help first-generation and low-income students pursue higher education.
###
About Bowie State University
Bowie State University (BSU) is an important higher education access portal for qualified persons from diverse academic and socioeconomic backgrounds, seeking a high-quality and affordable public comprehensive university. The university places special emphasis on the science, technology, cybersecurity, teacher education, business and nursing disciplines within the context of a liberal arts education. For more information about BSU, visit bowiestate.edu.
About the Durant Family Foundation
The Durant Family Foundation is a 501 (c)(3) non-profit organization founded in 2013 by Prince George's County native Kevin Durant. The foundation's mission is to enrich the lives of at-risk youth from low-income backgrounds through educational, athletic and social programs. The foundation supports youth athletics, organizations addressing youth homelessness, disaster & emergency relief efforts, renovates basketball courts across the world, and provides educational opportunities for low-income and first generation college students via our partnership with College Track. As of 2019, the Durant Center, based in Prince George's County, has been the home for Durant Family Foundation charitable programs and community initiatives.