Bowie State Adds a Pair of New Master's Degree Programs
Degrees Offer Students New Opportunities for Advanced STEM Education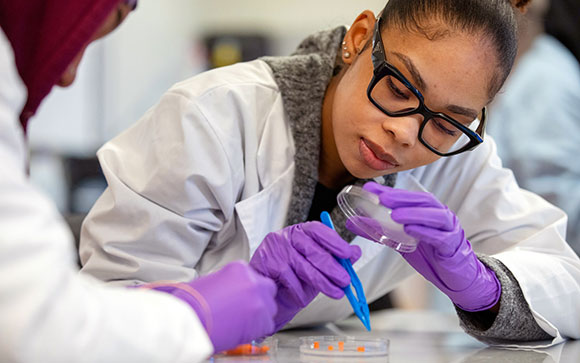 MEDIA CONTACT: Jonathan Saxon, jsaxon@bowiestate.edu, 301-860-3607
(BOWIE, Md.) – Bowie State University has expanded its academic catalog by adding new master's programs in the Department of Natural Sciences and the Department of Technology and Security to meet growing demand for skilled professionals in STEM fields.
Current and prospective students can pursue master's degrees for Applied Biotechnology & Molecular Biology (ABMB), which launches in fall 2023, as well as Internet of Things & Internet Technologies (IoT&IT), an online degree program, which went live this spring. The new programs increase the number of master's programs offered by Bowie State to 24.
The ABMB master's program is designed to prepare students for PhD programs in all major biosciences disciplines or research jobs in the biopharmaceutical industry. The program will cover multiple scientific disciplines including advanced biochemistry, molecular biology, cell biology, microbiology, immunology, biomechanics, plant and animal biotechnology. Students will be trained in recent advances in the field and on technical aspects through lab work.
The Iot&IT master's program, which focuses on technology and concepts related to devices which send and receive information via the internet, will teach students how to build and develop hardware and software as well as implement solutions to security issues associated with IoT&IT devices. Graduates of the program will be able to diagram and build IoT machines and ecosystems models, reconstruct models to customize and maintain IoT devices and networks and investigate and weigh data-driven decisions linking current IT infrastructure to emerging IoT infrastructure.
Both the master's programs are intended to position students to address future needs in the country's workforce.
A 2020 report from the U.S. Bureau of Labor Statistics (BLS) projects a 5 - 6.7 percent job growth for biotechnology sciences professionals entering the workforce and projects 9,800 jobs to be created in the next ten years. Additionally, 90,700 positions are projected to be available in the next ten years. Locally, BLS data projects an 8.6 percent growth in the job market in the state of Maryland, with an average job expansion of 330 jobs annually and a projected 2,700 new jobs in the next ten years.
BLS statistics also project an 11 percent growth of computer and information technology occupations from 2019 through 2029. Businesses increased reliance on data science, cybersecurity and cloud computing is expected to drive an increased demand for computer technology professionals in roles such as cloud engineer, information security analyst and computer network architect.
###
About Bowie State University
Bowie State University (BSU) is an important higher education access portal for qualified persons from diverse academic and socioeconomic backgrounds, seeking a high-quality and affordable public comprehensive university. The university places special emphasis on the science, technology, cybersecurity, teacher education, business and nursing disciplines within the context of a liberal arts education. For more information about BSU, visit bowiestate.edu.