BSU Students Visit South Carolina
The Trip Included Cultural Tours and Service Projects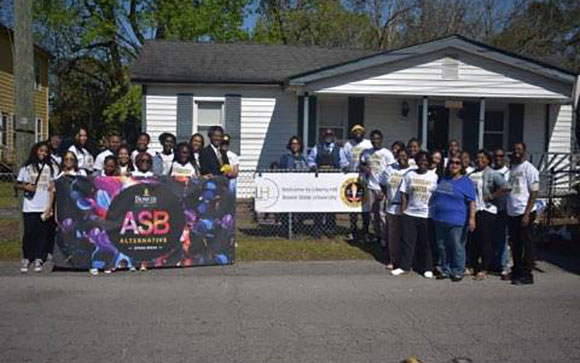 MEDIA CONTACT: Jonathan Saxon, jsaxon@bowiestate.edu, 301-860-3607
(BOWIE, Md.) – Most students take off for the beach during spring break, but a group of Bowie State students and faculty decided to switch it up with an alternative spring break trip to South Carolina for a week of history, culture and service.
This year's trip took 22 students on an eight-day excursion through South Carolina that featured stops in Charleston, Beaufort, Hilton Head and Liberty Hill. The group visited different historical sites, such as the Boone Hall Plantation and Denmark Vesey's church, Mother Emanuel AME. Students and faculty also took part in the De Gullah Root tour, an experience that highlighted the history and culture of the African descendants that settled in the area after the Civil War.
"I feel grateful and provoked to engage with our history as a people," said David Bryant, a freshman elementary education major. "The most impactful day was meeting Queen Quet and hearing her share about the Gullah Geechee people and resisting cultural erosion."
The group also took part in service projects with community partners. The projects included digitizing historical records, researching tax and property records to connect Liberty Hill citizens with their family's land, and helping with documentation efforts to have Liberty Hill recognized as a historic preservation site.
Dr. Janay Carpenter, a behavioral sciences and human services adjunct professor and one of the trip's organizers, believes the impact of the students' work will be relevant long after their trip.
"The legacy of Bowie State will be longstanding because of this initial partnership," she said. "We'll be able to go back to South Carolina to say, 'How can we continue the work?'"
Dr. Julius Davis, who is from Liberty Hill, regarded the trip as a vehicle to educate students with stimulating experience that can't be replicated in a classroom.
"One of the main things about the strategic plan is high-impact activities," said Dr. Davis. "Service learning is one of them. We really tapped into goal number one of the university's strategic plan in terms of achieving academic excellence and creating these external relationships with folks."
###
About Bowie State University
Bowie State University (BSU) is an important higher education access portal for qualified persons from diverse academic and socioeconomic backgrounds, seeking a high-quality and affordable public comprehensive university. The university places special emphasis on the science, technology, cybersecurity, teacher education, business and nursing disciplines within the context of a liberal arts education. For more information about BSU, visit bowiestate.edu.