Justina Miles' Performance at the Super Bowl Goes Viral
20 Year-old Steals Show with ASL Performance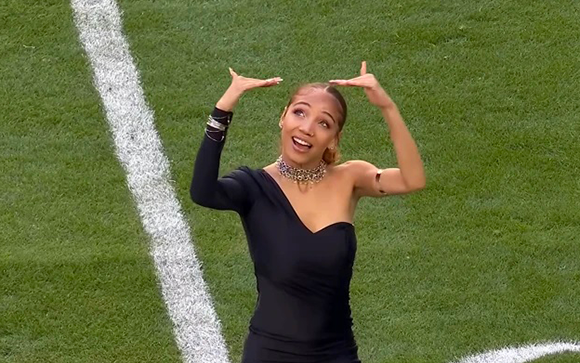 MEDIA CONTACT: David Thompson, dlthompson@bowiestate.edu, 301-860-4311
(BOWIE, Md.) – BSU's Justina Miles is credited with stealing the Super Bowl halftime show away from super star Rihanna. Miles is a 20 year old deaf American Sign Language (ASL) Performer and pre-nursing major at Bowie State. Her performance at the Super Bowl went viral on social media. Miles also accompanied and signed during Sheryl Lee Ralph's rendition of "Lift Every Voice and Sing" during the game's pre-game show. She is the first Black female deaf performer to appear on a Super Bowl halftime show.
###
About Bowie State University
Bowie State University (BSU) is an important higher education access portal for qualified persons from diverse academic and socioeconomic backgrounds, seeking a high-quality and affordable public comprehensive university. The university places special emphasis on the science, technology, cybersecurity, teacher education, business and nursing disciplines within the context of a liberal arts education. For more information about BSU, visit bowiestate.edu.