Vice President Kamala Harris Announces Initiative to Reduce Cost of Buying a Home
Department of Housing and Urban Development Rolls Out Program Next Month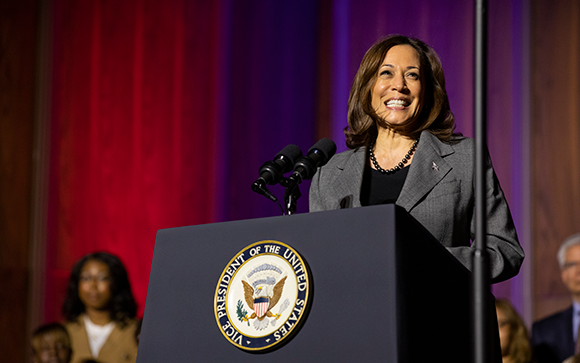 MEDIA CONTACT: David Thompson, dlthompson@bowiestate.edu, 301-860-4311
(BOWIE, Md.) – Vice President Kamala Harris chose Bowie State University as the site to announce a new initiative that will reduce primary mortgage insurance (PMI) for FHA loans by 40 percent to enable more individuals to qualify and afford to become homeowners versus renting. The program begins on March 20 and is expected to impact 850,000 home buyers.
The vice president shared a story about what it meant when her mother told Harris and her sister that they were becoming homeowners after years of renting, as she explained how homeownership sets the foundation for most families across the nation.
"Homeownership is an essential part of the American Dream," said Harris. "A home is more than a house. It is community. A home represents financial security and the opportunity to build wealth and equity that can help put your child through college and create intergenerational wealth within your family. That's what all of this represents."
Millennials are the fastest growing population of Black homebuyers with women making more purchases than men. A recent National Association of Realtors' 2022 "Profile of Home Buyers and Sellers" report noted that 88% of all homebuyers were white, up from 82% in 2021, while only 3% of homebuyers were Black, down from 8% in 2021.
"It is important that our students understand that owning property and building equity benefits them and their families," said Dr. Aminta Breaux, President of Bowie State. "Vice President Harris's announcement today combined with the partnership we have with HomeFree USA will help our students navigate the intricate home buying process."
HomeFree USA partners with Bowie State and 14 other HBCUs to counsel students on credit, budgeting, reducing debt and other nuances of becoming a homeowner. Gwen Garnett, HomeFree USA's executive director of the Center for Financial Advancement, says the 40 percent reduction in PMI will make a difference.
"HomeFree USA has already advised and helped over 11,000 people across the nation become homeowners," said Garnett. "With the reduction in PMI, we look forward to helping even more students qualify for mortgages."
At the end of 2022, the home ownership rate for Blacks was 44.9 percent and 74.5 percent for whites, a gap of 29.6 percent according to the Census Bureau. The variance has almost remained unchanged for 60 years.
Dr. Sam Duah, chair of the Department of Accounting, Finance and Economics at BSU noted the potential impact of the reduction in mortgage cost. . "A large number of minority families face a high-cost burden by spending more than the recommended 30 percent of their earnings on housing, thus reducing their ability to save, invest and create wealth," said Dr. Duah. "Reducing housing costs means more money can be allocated for investment in education and other income generating opportunities."
###
About Bowie State University
Bowie State University (BSU) is an important higher education access portal for qualified persons from diverse academic and socioeconomic backgrounds, seeking a high-quality and affordable public comprehensive university. The university places special emphasis on the science, technology, cybersecurity, teacher education, business and nursing disciplines within the context of a liberal arts education. For more information about BSU, visit bowiestate.edu.