Lab
Innovation in the Classroom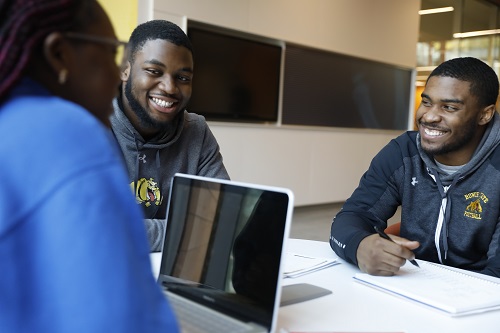 Bowie State University is committed to preparing all students to think innovatively and develop an entrepreneurial mindset. Through experiential learning both in and outside the classroom, students have an opportunity to activate their entrepreneurial talents from their first year through graduation.
First-year Student Experience
In the summer before freshman year, students can get an introduction to entrepreneurship concepts through the Engage program, which connects students with faculty mentors to develop a framework for creating solutions to real-world problems.
During their freshman year, all first-year students enroll in Freshman Seminar and participate in lessons that expand their understanding of the entrepreneurial mindset and how they can apply that approach to all of their coursework.
E-Living Learning Fellows
Students have the opportunity to participate in the E-Living Learning Fellows program as residents of the Entrepreneurship Living Learning Community, a real-world innovation hub designed to inspire and make entrepreneurship accessible to the Bowie State community.

The Fellows are encouraged to take full advantage of the experiential activities offered by the Entrepreneurship Innovation Center, including idea pitch competitions and hack-a-thons to solve real-world problems and win prizes. They also receive special access to yearlong internship opportunities and travel abroad programs related to entrepreneurship.
Entrepreneurship Infused in the Curriculum
Regardless of their program of study, Bowie State students have the opportunity to learn and apply entrepreneurship in their courses. Using essential problem-solving skills in all disciplines prepares Bowie State students for success in their education and future careers, as they hone their ability to think creatively in solving today's problems.
Business Idea Development
Some students may be inspired to work one-on-one with faculty mentors to develop their own entrepreneurial ventures through the experiential learning activities of the Entrepreneurship Innovation Center and the Innovation Corps program. Armed with the skills to bring their ideas to life, students learn to take their innovations to the marketplace and launch successful businesses.