Bowie State Students Poised for Success in National HBCU Hackathon
Students to Devise Tech Innovations at Black Enterprise Hackathon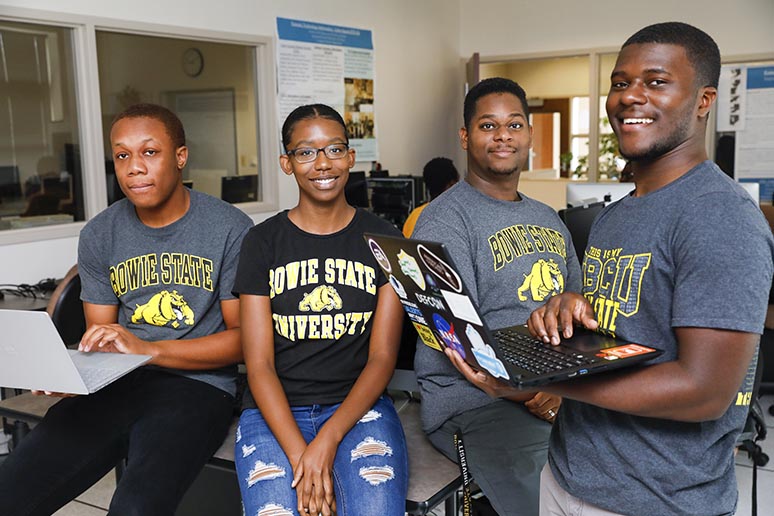 MEDIA CONTACT: Damita Chambers, dchambers@bowiestate.edu, 301-832-2628 mobile

(BOWIE, Md.) – A team of four undergraduates representing Bowie State University this week in a national tech innovation challenge are poised to bring home top honors and possibly win the collegiate competition, hosted by Black Enterprise magazine from September 13-17 near the tech hub of Austin, Texas.

For the last five years, Black Enterprise has hosted top students from historically black colleges and universities (HBCUs) to compete against each other on a national stage in the BE Smart Hackathon, a 36-hour tournament style contest. Bowie State has sent students to the hackathon every year since 2017. This year's team has high hopes of placing in one of the top three spots.

"We learned from our old mistakes, so we're prepared this time," says Dr. Haydar Teymourlouei from the Department of Technology and Security, who is the faculty member leading the team. "Last year, we made it all the way to the second round, so we're hoping we're going to hit the bullseye this time."

The Bowie State team members – computer technology juniors Chiebuka Ahaghoto, Alhaji Kanu, Alena Latson and Byron Tolson – have been preparing since June, honing their skills in cybersecurity and programming, as well as mobile app and database development. Each student's unique strengths complement other members' skillsets, creating the right combination of what's needed to be victorious this year.

Each year, the hackathon teams are presented with a new task that remains unknown until the launch of the competition. Teams are graded by a panel of judges on a number of technical categories, as well as their teamwork and problem-solving ability. The event not only gives students a chance to showcase their skills to recruiters, but it also gives them an opportunity to attend workshops, receive coaching and career advice.

Bowie State's Cyber Squad students will be competing in local and national hackathons throughout the year, giving them exposure to recruiters from Fortune 500 companies. Last year, two students earned first place at IBM's BlueHack.
###
About Bowie State University
Bowie State University (BSU) is an important higher education access portal for qualified persons from diverse academic and socioeconomic backgrounds, seeking a high-quality and affordable public comprehensive university. The university places special emphasis on the science, technology, cybersecurity, teacher education, business, and nursing disciplines within the context of a liberal arts education. For more information about BSU, visit bowiestate.edu.