Interested to know more about CSPI?
For additional information, please email BSU CSPI Program contact Dr. Chimdimnma Esimai, cesimai@bowiestate.edu or call 301.860.4344
Train to Become a U.S. Coast Guard (USCG) Officer
Receive Tuition and Pay
The BSU partnership with the USCG is a one-of-a-kind scholarship designed for motivated students who demonstrate academic achievement and leadership and who hope to become part of BSU's proud tradition of serving the U.S. military.
The College Student Pre-Commissioning Initiative (CSPI) provides financial support for school and training to prepare for careers as a commissioned officer in the Coast Guard.
Since 1790, the USCG has protected Americans and promoted national security, border security and economic prosperity in a maritime environment. The USCG is a branch of the U.S. Armed Forces, a law enforcement organization, a regulatory agency, a member of the U.S. Intelligence Community and a first responder.
CSPI Student Benefits
A monthly salary of approximately $3,600 while a student
Basic allowance for housing and full medical benefits
Fully paid tuition and fees for up to two years
Money for textbooks
A career straight after college graduation with a starting salary of approximately $60,000 upon completion of Officer Candidate School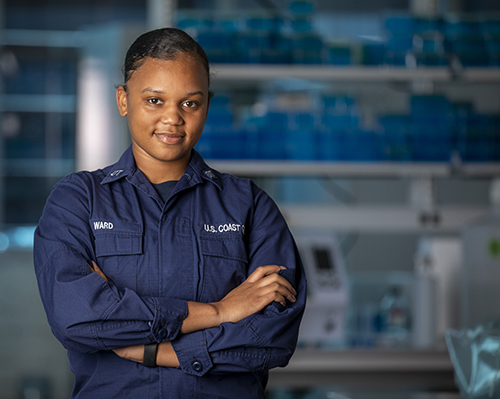 "CSPI is such a great program within the military service. I have improved on my leadership skills and matured throughout the past 2 years. Now that I have a career goal of becoming a cyber officer, I am even more excited and proud about being in the Coast Guard."
- Officer Trainee Assata Ward, Management Information Systems
Program Requirements
To qualify for the competitive CSPI program, you must:
Be a rising junior or senior (you may complete an interest form as a freshman and sophomore)
Have a minimum 2.5 GPA
Be between 19 and 27 years of age
Be a U.S. citizen
Student Obligations
Participate in at least four hours of USCG activities a week during the school year, including wearing the USCG uniform once a week while on campus
Receive training and exposure to USCG missions and units during school breaks
Successfully complete eight-week Basic Training course
After BSU graduation, successfully complete a 17-week Officer Candidate School before embarking on careers that allow them to perform the duties for Coast Guard operations in maritime law enforcement, prevention or aviation.