Class: 2014
Major: Visual Communication & Digital Media Arts
Activities: Honors Program
See more profiles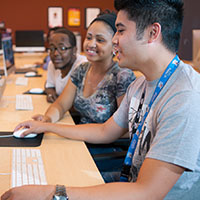 It's amazing when you get a shot at your dream job while you're still in college. That's what E-Jay Gonzales ('14) felt when he landed an internship working on the graphic design team for the Washington Wizards organization.
"I couldn't believe it. This is what I've always wanted to do," E-Jay said. "I was so grateful to my graphic design professor who pointed me to the opportunity."
After graduation, E-Jay accepted a job as a promoter of the fan experience for the WNBA Atlanta Dream. His experience at Bowie State empowered him to turn his passion into a promising career in graphic design.
As an Honors Program student majoring in visual communication and digital media arts, E-Jay said the availability of this program is one thing that drew him to Bowie State. He wanted to build on his introduction to graphic design in high school and find a way to merge his two passions: art and basketball.
"I love basketball, but I knew I'd never be a star player. As a graphic designer I could still be part of the NBA and work to excite fans even if I'm not on the court," he said. Bowie State's multi-faceted program with graphic design, animation, and digital media production helped E-Jay to expand his portfolio of skills.
"I initially saw myself as an average designer, but Bowie State has helped me gain greater confidence in my abilities," said E-Jay. "I've built close connections with friends in the art department and in the Honors Program. We challenge each other to succeed."