Making career decisions can sometimes be overwhelming. Unfortunately, there is no "test" that will magically tell you what you should be when you grow up or what you'll be good at. Career decision making requires a willingness on your part to undergo careful research and honest reflection before committing to a choice. For centuries, Career Counselors have advocated a systematic approach to helping people find answers to their own career concerns. One approach to career decision-making, developed in 1992 by Dr. Gary W. Peterson, Dr. James P. Sampson, Jr., Dr. Robert Reardon, and Dr. Janet Lenz, is called the Cognitive Information Processing Pyramid. Portrayed by using a triangle, this diagram represents the steps one should take in choosing a major or making a career change. We have adapted the basic concept and added additional steps.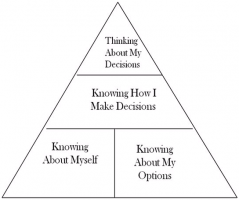 Step 1: Knowing About Myself
Once you realize you need to make a career decision, the first step is to clarify what you know about yourself. In looking at your self-knowledge, consider these four elements:
Your interests – what you enjoy doing
Your skills / abilities – what you do well; your strengths
Your work values – what is most important to you; what motivates you to work
Your personality – inborn preferences
Helpful Resources
SIGI 3 This self-guided, online career program helps users (1) identify their interests, skills/abilities, personality, and values; (2) explore a database of occupations, college majors, schools, and military options; and (3) create a personalized career plan.
Step 2: Knowing About My Options
Once you have clarified your self-knowledge, the next step is identifying and increasing your knowledge of potential occupations and majors that match your skills, interests, personality, and values. Research job descriptions, education and training requirements, salaries, and the skills and personal characteristics required for specific occupations.
Helpful Resources
Step 3: Knowing How I Make Decisions
Once you have a clear understanding of your self-knowledge and your options, the next step is to make your major/career decision. One thing you may want to consider is how you usually make important decisions. If you have been successfully able to make decisions in the past, then the method you used for making those decisions will apply to your career decision-making and you should stick with it.
Helpful Resources
Step 4: Thinking About My Decision Making
Identifying and addressing any barriers to your career decision-making is essential to the entire decision-making process. It is difficult to think clearly and make decisions when you are bombarded with negative thoughts, which act as barriers, and interfere with your decision making. To identify and overcome your barriers, you must pay attention to your self-talk, become self-aware, and then control your self-talk. Once all barriers are removed, you can make a plan and carry out your decision.
Step 5: Create and Carry Out My Plan
Take practical steps to implement your career decisions. If you do not have it already, get the education and training you need. Speak with your academic advisor or faculty about the appropriate curriculum. Begin the coursework. Identify opportunities that can get you the experience relevant to your career goal (e.g. internships, cooperative education, volunteering). Get involved in professional associations and/or campus student organizations. When you are ready to job hunt, prepare a quality resume and cover letter and prepare for interviews by practicing alone, with a friend or with a career counselor.
Helpful Resources