BSU Featured Legacy Families
The Christian Legacy Family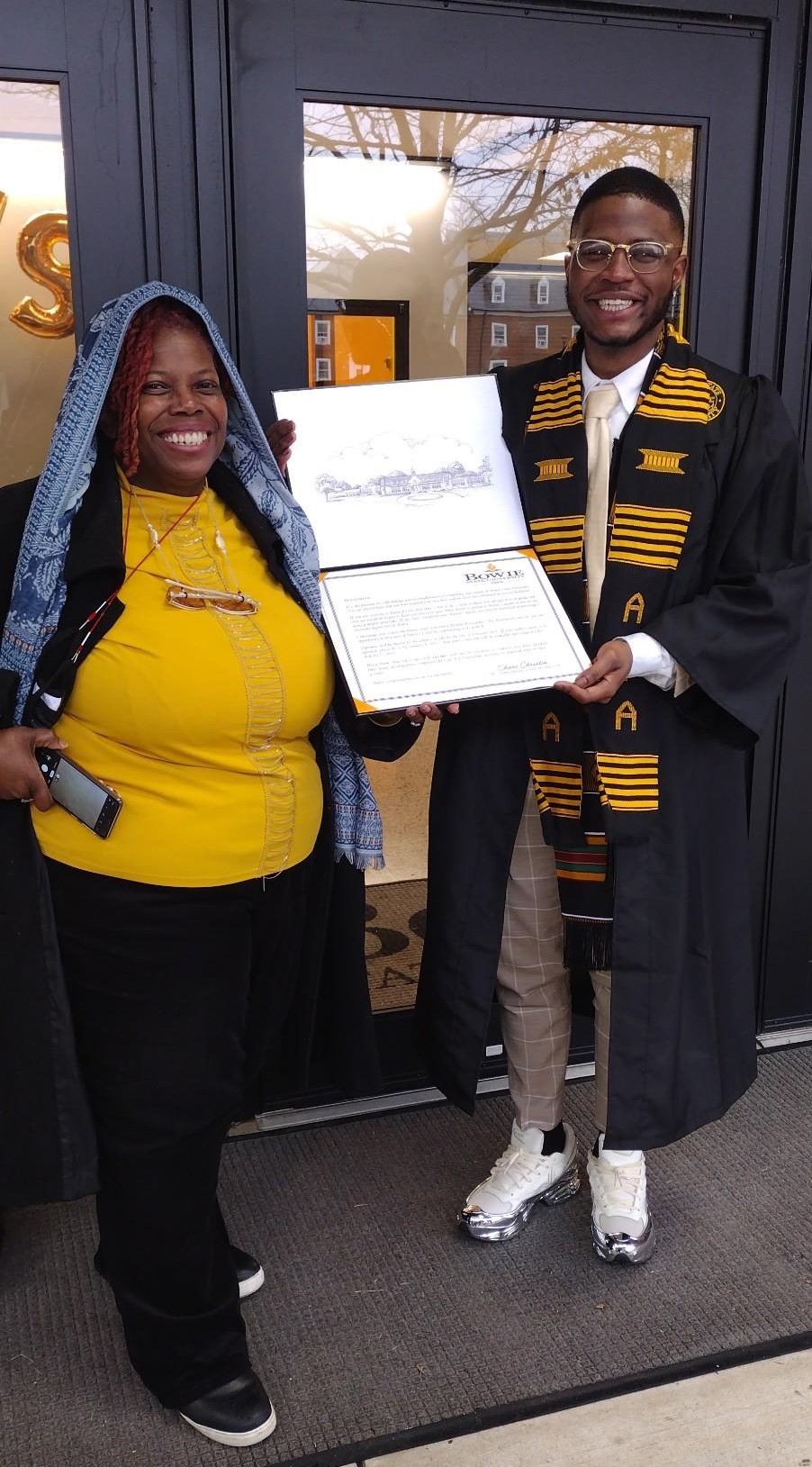 In August 1978, I, Beatrice Christian, came to Bowie State College straight out of Walbrook Senior High School in Baltimore, Maryland. I was the first in my immediate family to go and complete college. I picked Bowie State for two reasons: 1) It was close to home and I could get to Baltimore in 30 minutes if necessary; and 2) My field of study, Early Childhood Education, offered hands-on experience with children in the first semester unlike other schools. I began my career upon graduation in 1983. As I am successfully closing the door on my 40+ years in education, never did I dream that one of my own would continue their education at Bowie State.
There I was, some 40 years later, standing in front of what we called the "new gym" enrolling my grandson, Christopher Christian Jr. Talk about a surreal moment. It brought tears to my eyes. The reason he chose Bowie State University is very simple - to get away from Baltimore City and to major in his hobby, fashion design. He thrived at BSU and found a brotherhood in Alpha Phi Alpha Fraternity, Inc. He is a proud graduate in the class of 2022.
The Murphy Legacy Family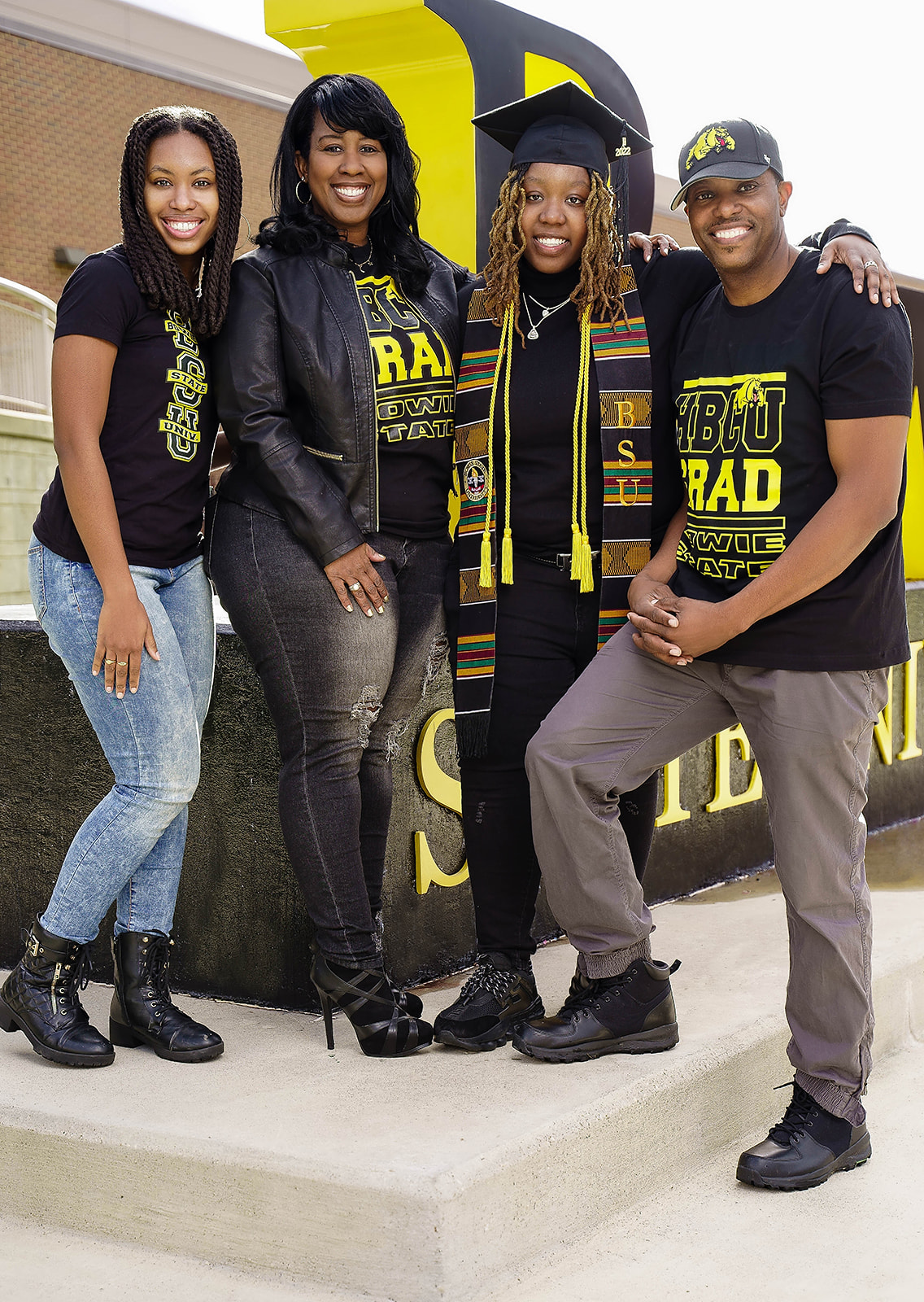 Our BSU Legacy Family begins with my husband William Murphy, Class of 1996, and I, Karen Chavis Murphy, Class of 1994 and member of the Bulldog Empowerment Alumni Chapter (BEAC). He was a computer science major and I was a journalism/public relations major. When Kamryn, our oldest, graduated from high school, we visited colleges across the country, but she said BSU felt like home. Kamryn began her BSU experience with the Bulldog Scholars Academy and graduated in December 2022 with a degree in visual communication and digital media. As a family of BSU Alumni, we are thankful to be part of this great legacy and encourage others to make BSU a part of their story.
The Johnson-Baker-Wilson Legacy Family

Our BSU Legacy Family started with my grandmother, Beatrice Elizabeth Johnson, who graduated from Bowie State with an educational degree in 1951. I, Donte Wilson, was next to graduate from BSU in 1997 with a bachelor's degree in psychology. My sister, Tanisha Baker, graduated in 2016 with a master's in counseling psychology. My daughter, Taylor Wilson, currently attends BSU and will graduate with the class of 2026. That's three generations of Bulldogs!

The Jones Legacy Family
Rudell Jones, BSU Class of 1977 (B.S., Elementary Education) and 1984 (Master of Education) has three sisters who graduated from BSU with degrees in elementary education. They are Darlene Jones ('71); Barbara Jones ('71); and Linda Jones ('74). Mr. Jones also has two nieces who graduated from BSU. Darlene's youngest daughter, Charisse Jones Thompson ('94) and Monica Glee Proctor (received a master's degree in the early 2000s). Monica's son, Maleke Glee, currently teaches part time at BSU. Rudell Jones and his sisters have a combined total of 127 years of service to the public schools of Maryland.
The Brown-Barton Legacy Family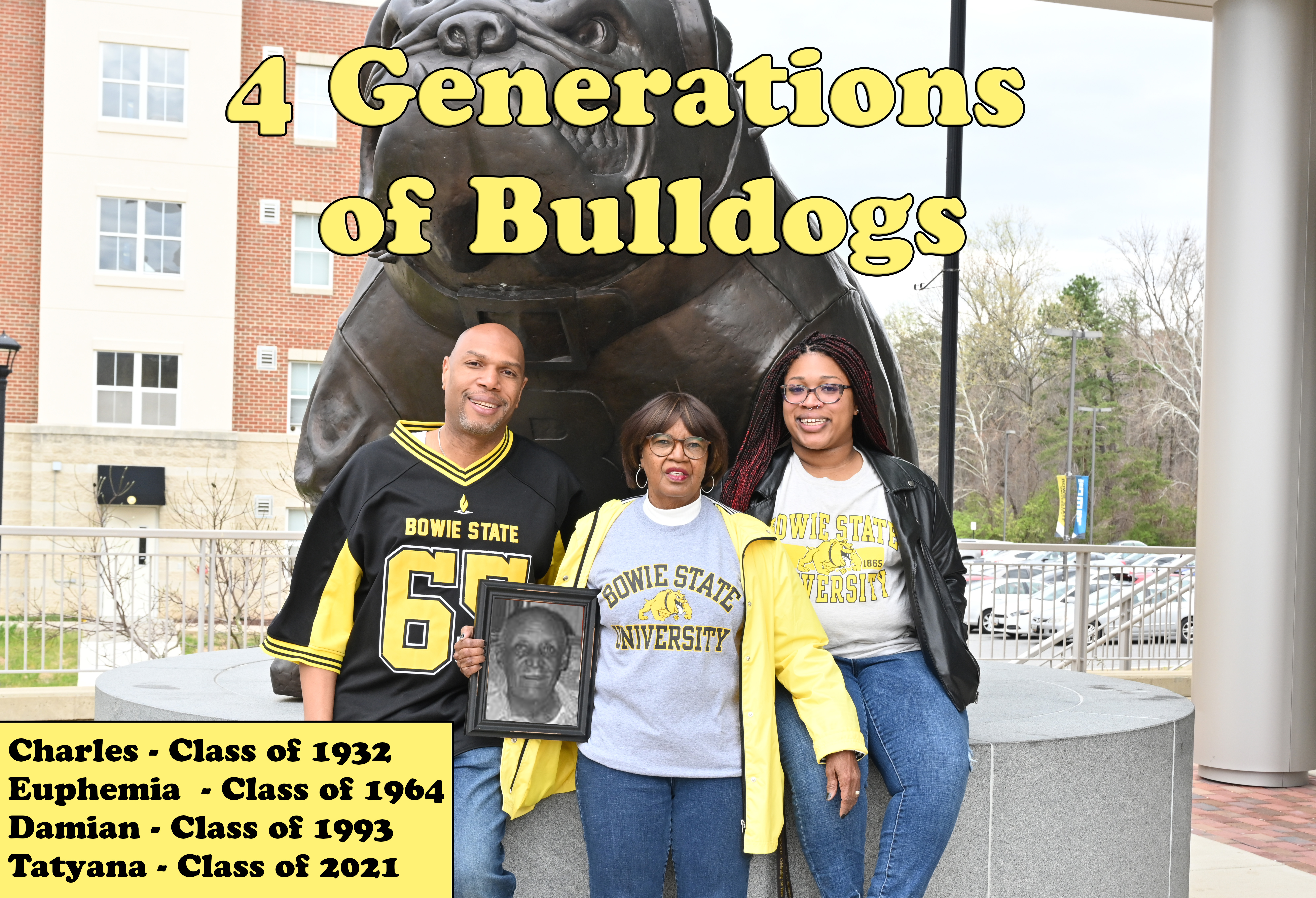 The Brown-Barton Legacy Family has four generations of Bulldogs that begin with Charles R. Brown Sr. Class of 1932 from the Bowie Normal School. The second generation begins with Mr. Brown's daughter, Euphemia Barton, better known as "Femmy," Class of 1964 from Bowie State College. The third generation begins with the son of "Femmy," Damian Barton, who graduated from Bowie State University in 1993. The fourth chapter culminates with Tatyana Barton, the daughter of Damian Barton.
The McRae Legacy Family
When Leslee McRae started her first year of college she was living on campus and her mother, Learay McRae, came to visit. It was during that visit, her mother decided she wanted to go back to school and get her master's degree. Long story short, her mother completed the registration and enrolled at BSU. A few years later they became BSU graduates in the same year 1999. One of Leslee's fondest memories is sitting outside of her mother's classroom waiting for her to come outside so she could walk her to her car and then her mother driving her back to her dorm. Learay McRae was an elementary school educator and retired after 40 plus years in DC and Prince George's public schools. She has been a pillar in the community and always willing to help. She gives from her heart and has excellent leadership and financial skills. Her passion is being a lifelong learner and she encourages all to get an education and to trust God.
The Johnson-Hunter Legacy Family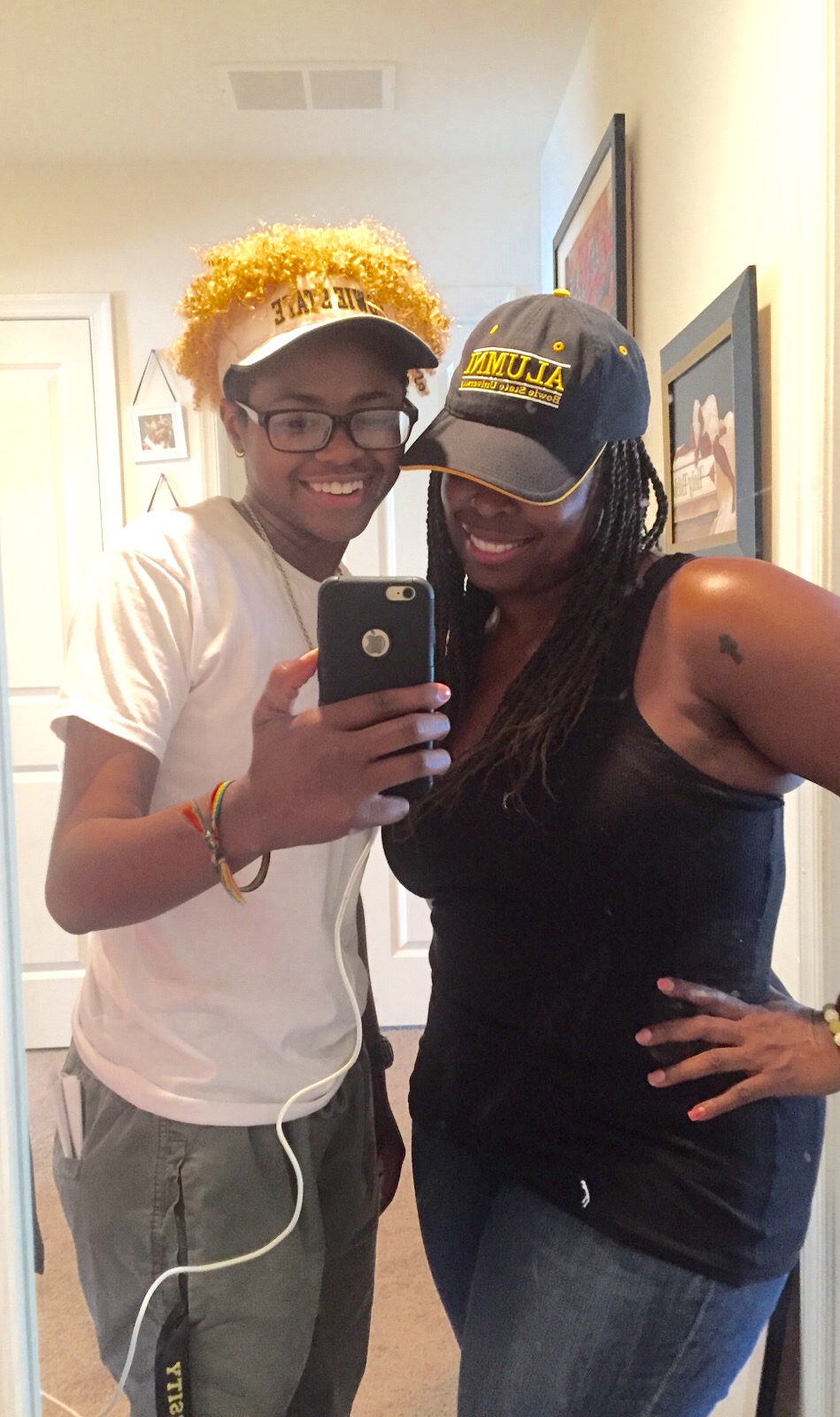 Crystal Johnson graduated from Bowie State University in 1991 with a degree in business administration and a concentration in marketing. She currently works as a senior procurement analyst, as well as an adjunct professor. Her niece, Sydnee Hunter, graduated from BSU in 2020 with a degree in visual communications and digital media arts (VCDMA). Sydnee is working as a print screen artist and will be relocating to Los Angeles to focus on art and her clothing designs.
The Cornish Legacy Family

As a Bowie State student, Marvin Cornish, Sr. was known for his musical abilities and sense of humor. Following graduation from Bowie State Teachers College in 1955, Marvin held various teaching positions throughout the Eastern Shore and in Carroll County, Maryland before retiring with 31 years of service. He is a past president of the Fred-Carroll Chapter and Bowie State National Alumni Association.
Often referred to as "Gooby" by her classmates, Lillian (Gooby) Terrell ('55) is a lover of education to this day! Her 30+ year career encompassed schools in Maryland, Pennsylvania and California. One of Lillian's hobbies in retirement is decorating her front door during holidays and seasonal changes similar to her classroom bulletin board during her teaching career.
Marvin Cornish, III aka "Cali" was known as the "Will Smith" of campus during his college days. His activities included the Campus Activities Board and Vice Pole March as a 2013 initiate of the Epsilon Sigma Chapter, Kappa Alpha Psi Fraternity, Inc. Though his academic was put on hold due to military deployment to Iraq as a member of the United States Army, he returned with even more resolve to complete his bachelor's degree in 2016.
The DeShields Legacy Family
Amanda (Cornish) DeShields ('47) attended Bowie's teacher's college in the 1940s. She went on to teach for over 36 years on the eastern shore of Maryland. Being a Black educator open so many doors for people of color and provided a much needed uplift to the community. Her son Edward DeShields ('89) graduated from Bowie State and grandson Elijah DeShields is a third generation BSU student. He is currently a senior and will graduate in December 2021.