2021 Middle States Self-Study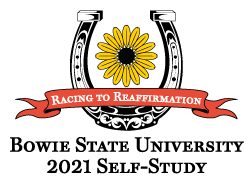 Since 1961, Bowie State University has been regionally-accredited by Middle States Commission on Higher Education (MSCHE). The reaffirmation process includes a self-study report to show compliance with the Standards for Accreditation and Requirements of Affiliation.
Virtual MSCHE Self-Study Visit
With both the completion of the University's Strategic Plan and the National Institute of Learning Outcomes Assessment (NILOA) Excellence in Assessment Designation in 2018, Bowie State has built a solid foundation to begin our self-study work, which is an essential part of our Race to Excellence. Furthermore, the self-study affords the Division of Academic Affairs the opportunity to investigate the racecourse priorities of accreditation and assessment, advising and retention, curriculum, and student success.

Bowie State community members are serving on executive committee, the steering committee, and the working groups to produce a quality self-study report that highlights our strengths as an institution and identifies recommendations for future improvement. This is an exciting time for Bowie State and an important one in our collective future.
The virtual team visit for the MSCHE Self-Study is scheduled for November 7 - 10, 2021.