Theatre Arts Major
Elena Velasco
Elena Velasco, MFA
Assistant Professor
Specializations - Theatre for Social Justice, Acting, Directing, Physical Theatre and Youth Theatre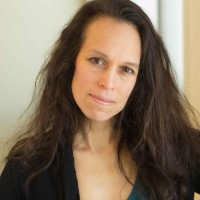 Elena Velasco is a theatre artist whose work encompasses many aspects of performance, production, activism and education. She firmly believes that through a redefined actor-audience relationship and a "multilingual" approach to performance, theatre can be the catalyst for change in society and identifying intersections in humanity. During her 25 year career she has devoted her time equally between performance and residency work. She has taught theatre through the lens of community engagement and education throughout the DC metro area, with a focus on Title 1, immigrant and marginalized populations. Ms. Velasco is the Artistic Director and Co-founder of Convergence Theatre, a multidisciplinary performance collective that creates work centered on social justice. She is also an affiliated artist with Óyeme, Imagination Stage's collaborative project that responds to the surge of refugee children fleeing violence from Central America who have arrived in Montgomery County. Her directing and choreography credits include Convergence Theatre, Synetic Theater, GALA Hispanic Theatre, Keegan Theatre, Imagination Stage, Mead Theatre Lab, Young Playwrights' Theater, Capital Fringe, Source Theatre, Discovery Theater, Catholic University and the Kennedy Center's New Visions New Voices Festival. She has choreographed for Avant Bard, Theatre J, Mosaic Theatre Company, Keegan Theatre and Catholic University. Ms. Velasco is a member of SAG, AFTRA, and AEA and has performed at the Kennedy Center, Theatre Alliance, Discovery Theatre, Imagination Stage, Signature Theatre STAGES, and in several films, commercials, and TV shows. She currently serves as the Co-Director of Equity, Diversity, Inclusion and Access for the American Alliance for Theatre and Education and has provided consultation for EDIA in theatre programming for organizations such as Theatre Washington, Women's Theatre Festival of North Carolina, Gandhi Brigade, and Southeastern Theatre Conference. Ms. Velasco is the theatre production coordinator and an assistant professor of theatre arts at Bowie State University.
www.elenavelasco.net www.convergencetheatre.org
UPCOMING: Guerrilla Theatre Works: Boiling Point, Convergence Theatre (virtual devised production).
Specializations: Theatre for Social Justice, Acting, Directing, Physical Theatre and Youth Theatre
Education: MFA in Directing and Bachelor of Arts in Drama (Magna Cum Laude), Catholic University of America.
Awards:
DCBX Veinte Community Award
Bowie State University CAS Young Faculty Award
Anacostia Arts Center Residency and ARCH Development grant
Southeastern Theatre Conference Professional Development Scholarship
CulturalDC Grant
Publications: "Questioning Social Justice: A Dialogue on Performance, Activism, and Being In-Between", Applied Theatre. Co-written with Asif Majid. Routledge Publications (December 202 release.)
"The Bilingual Classroom: Teaching through Verbal and Physical Language." Arts Integration in Education: Teachers and Teaching Artists as Agents of Change; ed. Dr. Gail Humphries Mardirosian and Yvonne Pelletier Lewis.