Black Male Teachers College
Interested in Joining the Fall 2023 Virtual Session?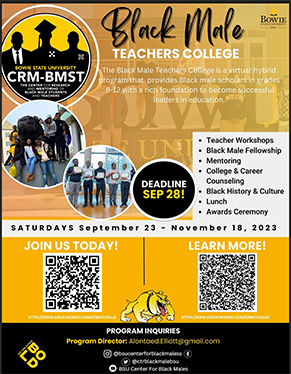 The eight-week program runs from September 23 through November 18, 2023
Program Orientation: September 23, 2023
Application Deadline: September 28, 2023 (Please try and apply before orientation)
Awards Program: November 18, 2023
The Black Male Teachers College is a program for high school students in all grades interested in or plan to become a teacher.
Black male high school and 8th grade students who have not considered becoming a teacher but are willing to learn more should apply to participate in the program. The Black Male Teachers College will be held virtually and on the campus of Bowie State University to provide students with an opportunity to experience college life. The program will also provide young men with knowledge and experiences to understand what it is like to be a Black male college student, education major, and teacher. The students will be mentored by Black college professors, college students, and Black male teachers and leaders. The students will also get the opportunity to meet, interact, and network with other Black male students and Black male teachers and leaders throughout the state of Maryland and around the country.
During the school year, Black male 8th – 12th graders will participate in workshops, programs, activities, and field trips in and out of state. Most of the workshops and activities will take place from 9 am to 10:30 am on Saturdays. A small number of special programs or activities will be held in the evenings during the weekday. The BMTC will be virtual, and there will be opportunities to engage on campus and participate in field trips.
The workshops, programs, and activities will focus on strategies to help young men succeed in 8th grade through high school and college. We will also explore what it means to be Black, a man, and a male teacher, explore and examine Black history and culture, college preparation (e.g., finding scholarships, applying for college and financial aid), career preparation (e.g., creating/refining resumes and cover letters), financial literacy, and entrepreneurship. There will be free giveaways provided to the student participants.
The Black Male Teachers College will operate during the 2023-2024 school year. This fall, the program activities will run from September to November, culminating in an awards program for the students and their families in November to commemorate their participation in the program and celebrate their accomplishments in and out of the classroom.
Fall 2023 Semester Schedule
Saturday sessions are held from 9 - 10:30 a.m. Please be mindful that scheduled topics and assignments are subject to change.
September 23 - Session 1: Orientation/Bond Building
September 30 - Session 2: Scholar Background Day
October 7 - Session 3
October 14 - Session 4: Museum Field Trip
October 21 - Session 5
October 28 - Session 6
November 7 - Session 7: College Day

November 11 - Session 8
November 18 - Awards Program