Black Male Teachers College
Interested in Joining the Fall 2022 Virtual Session?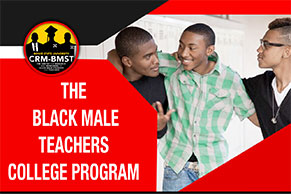 The seven-week program runs from October 8 - November 19, 2022
Program Orientation: Saturday, October 8, 2022 at 10 a.m.
Application Deadline: Friday, October 5, 2022 [Please try to apply before the orientation]
Awards Program: November 19, 2022
First-time Applicants Apply Here
The Black Male Teachers College is a program for high school students in all grades interested in or plan to become a teacher.
Black male high school and 8th grade students who have not considered becoming a teacher but are willing to learn more should apply to participate in the program. The Black Male Teachers College will be held virtually and on the campus of Bowie State University to provide students with an opportunity to experience college life. The program will also provide young men with knowledge and experiences to understand what it is like to be a Black male college student, education major, and teacher. The students will be mentored by Black college professors, college students, and Black male teachers and leaders. The students will also get the opportunity to meet, interact, and network with other Black male students and Black male teachers and leaders throughout the state of Maryland and around the country.
During the school year, Black male 8th – 12th graders will participate in workshops, programs, activities, and field trips in and out of state. Most of the workshops and activities will take place from 10 am to 12 noon on Saturdays. A small number of special programs or activities will be held in the evenings during the weekday. The BMTC will be virtual, and there will be opportunities to engage on campus and participate in field trips.
The workshops, programs, and activities will focus on strategies to help young men succeed in 8th grade through high school and college. We will also explore what it means to be Black, a man, and a male teacher, explore and examine Black history and culture, college preparation (e.g., finding scholarships, applying for college and financial aid), career preparation (e.g., creating/refining resumes and cover letters), financial literacy, and entrepreneurship. There will be free giveaways provided to the student participants.
The Black Male Teachers College will operate during the 2021-2022 school year. This fall, the program activities will run from October to November, culminating in an awards program for the students and their families in November to commemorate their participation in the program and celebrate their accomplishments in and out of the classroom.
Fall 2022 Semester Schedule
Note:
Please be mindful that scheduled topics and assignments are subject to change.
Black Male Scholar Bond Building
Saturday, October 15, 2022 - 10 –12:30 pm
During this session scholars will foster relationships with their brothers, and program mentors to set a foundation for our community of Black Male Scholars.
Introduction to Black Male Educators
Saturday, October 22, 2022 - 10 –12:30 pm
Scholars will engage in activities to familiarize themselves with notable black male educators, in an effort to understand the impact Black Male Educators have on communities. Scholars will also participate in meaningful discussions with Black male scholars in the field of education.

Introduction to Black Male Scholar Identity
Saturday, October 29, 2022 - 10 –12:30 pm

In the session, scholars will explore their individual identity as young black men and establish a correlation between their uniqueness and the personality as a Black Male Educator.

College Day/ Alumni Day
Saturday, November 5, 2022 - 10 –12:30 pm
This session will engage scholars in discussions about college and meet with a diverse cadre of Black men to better understand college admissions, financial aid resources, and campus living, along with academic, and social life.

Trip to Bowie!
Saturday, November 12, 2022 - 10 am –12:30

During this session scholars will join the BMTC Team on the campus of Bowie State University, for a campus tour and overview of our sounding community and review local and historical attractions.