President Samuel B. Myers, who had just begun his administration the previous summer, was sympathetic to the students' needs. He even compiled a shortened list of student demands. He was, however, constrained by time, resources, and the juggling of pressing priorities early in his term to correct problems on campus.
Students finally lost patience when a popular faculty member's contract, History Instructor Virginius B. Thornton III, was not renewed. After unsuccessful meetings with the administration, a boycott of classes was called by some members of the student government to begin on Wednesday, March 27. Not all students were in favor of this action, and another document was issued publicly, describing why the boycott was unnecessary, revealing internal disagreements over the issues.
Meanwhile, ongoing negotiations reached accord on some of the issues and at this point the local and national newspapers were covering the action.
However, as further negotiations stalled, the boycott of classes continued through Friday, March 24. Students occupied the Administrative offices and the campus was effectively shut down. Dr. Myers refused to overreact or mete out punishments. By April 3, students had submitted a longer letter and list of grievances to President Myers.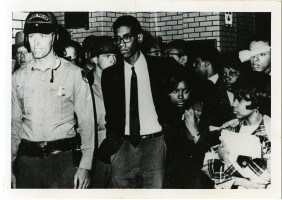 Ongoing negotiations did nothing substantial to quell student dissatisfaction. By the following week they decided to demonstrate for better conditions and improved funding at the Maryland State Capitol in Annapolis on Thursday, April 4. They demanded a meeting with then-Governor Spiro Agnew to press their grievances and make their case in urgent, personal terms. The Governor, however, refused to meet with them, and immediately had 273 students and demonstrators arrested and jailed.
On that same fateful evening, the devastating news broke that Dr. Martin Luther King Jr. had been assassinated in Memphis, where he had gone to support the sanitations workers' strike.