Accreditation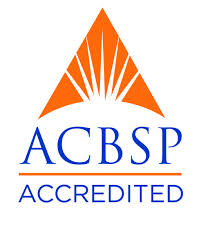 The College of Business at Bowie State University is accredited by
The Accreditation Council for Business Schools and Programs (ACBSP)
. The Business Administration major, Data Analytics for Decision Making concentration, BS concentration, the Master of Arts in Human Resource Development, the Master of Public Administration, and the Master of Science in Management Information Systems programs are not accredited by ACBSP.
The College of Business places students on pathways to successful business careers.
Overview
You will learn the skills you need for a rewarding career in corporate America, government or as an entrepreneur through the College of Business' holistic, career-oriented approach. You'll find flexible course options (online, in person, or hybrid), as well as professional and leadership development. The college's top-notch faculty combines hands-on experiences with the latest tools and research to replicate challenges you'll face in a business environment. Our close relationships with area businesses and government agencies mean you'll have many opportunities for internships and post-graduate employment.
Our programs create a microcosm of the real-life business arena where students interested in starting their own businesses learn to think like entrepreneurs and have direct access to entrepreneurs and other mentors via our Entrepreneurship and Small Business Management Concentration.