Upcoming Events
Legislate Night: the HBCU Experience
February 9, 2023 | 4-6 pm - Virtual Training

February 15, 2023 | 5-8 pm - In Person Event

A night of dialogue with our legislative priority bill sponsors, NAACP branch level committee chairs, and other HBCU students from around the state. Transportation is provided from campus. FREE apparel. FREE gifts. FREE refreshments. More details to come.
March 9, 2023 | 12 - 3 pm
Student Center Ballroom
Featuring national, state, local agencies and non-profits. All majors are welcome. Sponsored by Bowie Sate C4, BSU Green Ambassadors, and the Greater Washington Region Clean Cities Coalition (GWRCCC)
The Worldwide Climate Teach-In
The Maryland Commission on Climate Change sponsors and promotes BSU's participation in a worldwide event with the goal to encourage students & educators to talk about climate change & it's impact on our lives. More info to follow.
View the MCCC Maryland Climate Teach-In Resource Page
Prince George's County Public Schools Student Environmental Alliance Summit (PGCPS-SES)
BSU will host over 200+ students and PGCPS employees for Part 2 of the 2023 Student Environmental Alliance Summit (SEAS) which supports high school students who have expressed an interest in learning about careers in Environmental Science, Natural Resource Management, or Agriculture. The Summit exposes students to career options, leadership and advocacy activities, and contemporary environmental research.
Past Events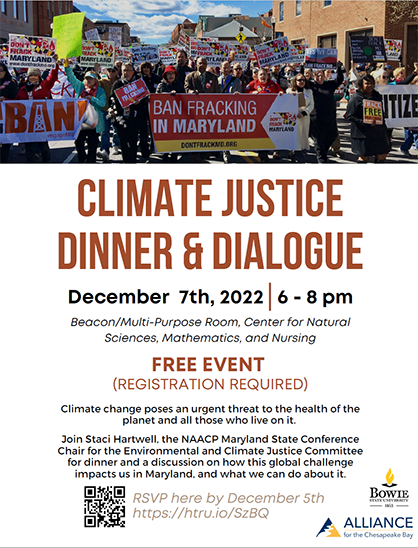 Climate Justice Dinner & Dialogue
Climate change poses an urgent threat to the health of the planet and all those who live in it. Join Staci Hartwell, the NAACP Maryland State Conference Chair for the Environmental and Climate Justice Committee for dinner and a discussion on how this global challenge impacts us in Maryland, and what we can do about it.
This event is sponsored by the Alliance for the Chesapeake Bay & the BSU Office of Sustainability.
Chesapeake Watershed Forum
November 2-4, 2022
National Conservation Training Center, Shepherdstown, WV
Win a scholarship to attend the Chesapeake Watershed Forum! The forum will feature workshops, sessions and inspiring speakers, plus in-person activities, networking with professionals and a boat tour of the Anacostia River. Learn about the Chesapeake Bay from all perspectives. Become empowered & environmentally active in your community. Put it on your resume.
Questions? Email Dr. Anne Wiley at awiley@bowiestate.edu
Week of June 27, 2022
Stay tuned for our next campus-wide shredding event scheduled for June 2022.
April 19-22, 2022
Bowie State University is devoted to protecting our environment and keeping our campus and surrounding area clean and green.
Sponsored by C4, BSU Green Ambassadors, and the Maryland Dept of the Environment
Climate Career Fair
February 16, 2022
All majors are welcome: featuring national, state, and local agencies.
Sponsored by C4, BSU Green Ambassadors, and the Maryland Dept of the Environment