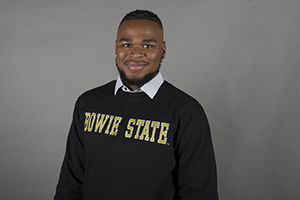 Hometown: Stafford, VA
Major: Criminal Justice with a concentration in Social Justice
Classification: Sophomore
Are you involved in any campus organizations?
Vice president of BSU's chapter of the NAACP, Sophomore Class Vice President, BSU Navigator, Mr. 1908 for Alpha Kappa Alpha Sorority and the National Honor Society for Leadership & Success
List three words that best describe you.
Charismatic, joyous, resilient
What inspired you to choose your major?
It came from seeing all the issues in the world and wanting to figure out how I can be part of the solution instead of the problem.

What are you passionate about?
Advocacy. At Bowie State I've learned how important it is as a minority to advocate for change. Our future is contingent upon us and what we do right now in this moment.
What makes Bowie State special to you?
It's special because of the relationships I have with my professors. At a larger university, you're just number.
Who do you look to for support on campus?
The one and only Ms. Thomasina Boardley – the Coordinator of Student Activities. Bowie State is very family-oriented and she's like my campus mother.
What are some BOLD moves you've made on campus?
Stepping out of my comfort zone to get involved.