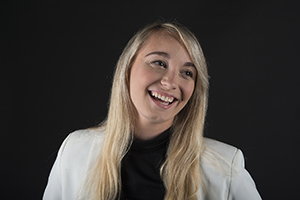 Hometown: Severn, MD
Major: Communications with a concentration in Broadcast Journalism
Classification: Senior
Some express being bold in fashion or writing, how do you express your BOLD?
I express my bold in front of the camera.
What makes Bowie State special to you?
I chose Bowie State because of the communications program and because of OT (Dr. Otis Thomas, Chair of the Department of Communications) He's been very supportive. He chose me to interview TI for BSU TV –I really wasn't expecting that! He said I have the personality that they want to show on camera.
What do you look forward to doing after you graduate?
I look forward to having a career where I wake up in the morning and I'm excited to go to work. It needs to be a place where I'm talking to new people and working with a great team. I would really love to have my own talk show one day.
List three words that best describe you and why.
Creative – I'm always popping out new ideas. Outgoing and family-oriented. I come from a very large family. I have 9 siblings and an 8-year-old daughter, so I'm always trying to talk to everyone and see everyone.
What is a BOLD move you've made on campus?
Going back to school as a single mom after taking a few years off was a bold move for me. Then I moved from my hometown to here.