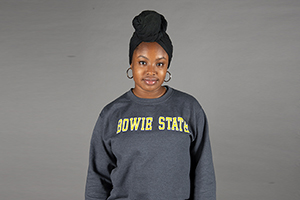 Hometown: Sicklerville, NJ
Major: Communications
Classification: Junior
What makes you "BOLD?"
I'm not like many. So I think by me being confident enough to just be myself and not having a care in the world about what other people think is pretty bold.
What inspired you to choose your major?
My grandma inspired me. She always told me that she wanted me to be a journalist. And at first, I wanted to go into law. But over time I developed a passion for writing. It allows me to tap into my imagination. I can just be myself and feel free to express my thoughts.
What makes Bowie State special to you?
It's an HBCU!
What have you learned about yourself at Bowie State?
Bowie State has taught me that I can be amongst people who look like me, but there's still somewhere for me to stand out.
What are some BOLD moves you've made on campus?
I'm new here. Going up and talking to people can be intimidating, so that's definitely been a bold move for me.