A Powerful & Positive Political Figure in the Making
Young Politician Juwan Blocker Among Nearly 600 Graduates in BSU's Winter Commencement Ceremony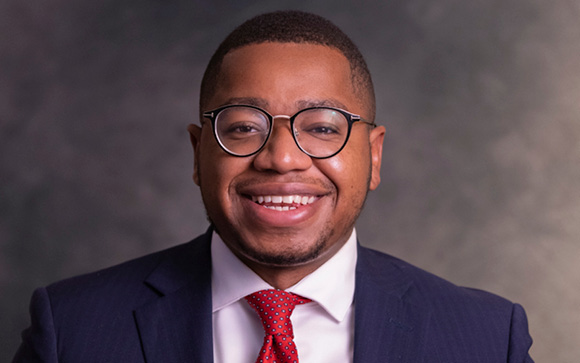 MEDIA CONTACT: Cassandra Robinson, crobinson@bowiestate.edu, 301-860-4336
(BOWIE, Md.) – Juwan Blocker's college career did not begin like most eager freshmen on campus. He arrived to Bowie State University as a county official, having been elected to the Prince George's County School Board at just 17 years old. Eventually deciding to begin his higher education journey, Blocker was adamant about attending an Historically Black College and University (HBCU). Smaller class sizes and convenient location in Prince George's County made Bowie State his top choice.
Now, the Maryland native is graduating with his bachelor's degree in history and concentration in government, as he looks forward to continuing his career in politics. Blocker is one of nearly 600 students who will be celebrated during Bowie State's Winter commencement ceremony on Wednesday, December 22 at 10 a.m. View it at bowiestate.edu/commencement.
During his time at BSU, Blocker enlisted in the military, started a family and expanded his career in public service. In addition to being a member of the Maryland Army National Guard, he is the full-time Deputy Legislative Director for Comptroller of Maryland, Peter Franchot, and Executive Director of Maryland Black Mayors, Incorporated (MBM). MBM non-profit was originally created to represent elected, appointed and retired African American mayors across the state. Now, 20 years later, MBM represents over 15,000 Marylanders in sixteen municipalities and Blocker is the youngest executive director to lead the organization's progression into the future.
With all of those accomplishments under his belt, one of Blocker's biggest lessons at BSU has been managing his work-life balance. Like millions of people across the globe, he faced the challenge of juggling school, career, and family responsibilities, all while his pregnant wife and their child battled COVID-19. Consistency and organization were key components on his quest for a degree.
"Bowie State gave me the educational foundation needed to be successful. Real life situations in the classroom helped prepare me for what to expect post-graduation," says Blocker. "When all things are said and done, it's very simple. I just want to be able to have made an impact in one person's life."
Upon graduation, Blocker plans to continue his role in the comptroller's office and pursue a master's degree in organizational communications. Looking forward, he plans to use his education and early political experience as a starting block to reach his ultimate goal of running for governor of Maryland. Through it all, he remains #BSU4LIFE.
###
About Bowie State University
Bowie State University (BSU) is an important higher education access portal for qualified persons from diverse academic and socioeconomic backgrounds, seeking a high-quality and affordable public comprehensive university. The university places special emphasis on the science, technology, cybersecurity, teacher education, business, and nursing disciplines within the context of a liberal arts education. For more information about BSU, visit bowiestate.edu.