Bowie State University Launches Solution to Shortage of Special Education Professionals
BSU Offers Tuition-Free Advanced Degree Programs to Improve Outcomes of Children with Disabilities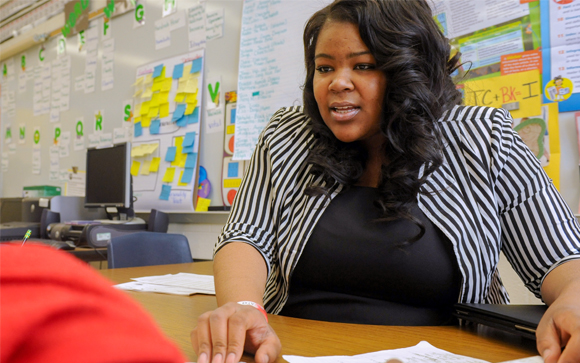 MEDIA CONTACT: Cassandra Robinson, crobinson@bowiestate.edu, 301-860-4336
(BOWIE, Md.) – In response to the critical shortage of qualified special education professionals from underrepresented groups nationally, Bowie State University's College of Education has implemented two new advanced degree programs offering free tuition for Maryland state residents.
The overrepresentation of culturally and linguistically diverse (CLD) students in special education has intensified the need for administrative personnel who understand evidence-based instruction for students from diverse backgrounds.
"When we talk about special education, we're talking about children who have been identified as having a disability under the Individuals with Disability Education Act (IDEA). Whether it's a learning disability, emotional disturbance, autism, orthopedic impairment, or other disorders, it's a challenging population," said Dr. William Drakeford, associate professor, BSU Department of Teaching, Learning, and Professional Development (TLPD). "Historically, there has always been a shortage of educators in the area of special education, because it's extremely challenging."
Funded by the U.S. Department of Education, the Special Education Support Services (Project SES) and Inclusive Culturally Effective Administrators of Special Education (Project INCREASE) programs are designed to provide scholars with an in-depth interdisciplinary experience including collaborative mentoring, professional development, and internship/externship opportunities. Project SES is a strong collaboration between Bowie State's special education and school psychology programs to create a microcosm of what happens in public schools such as Individualized Education Program (IEP) meetings with parents, according to Drakeford. Project INCREASE is a collaboration between the special education and educational leadership programs to train practitioners to enter the field as principals, superintendents and other high level school administrators as they work hand-in-hand in the school system. Both programs are accepting students for spring 2022.
Dr. Drakeford says Project SES is expected to improve results and outcomes for young children with disabilities and their families. The project will address the need by recruiting, educating, and retaining professionals across special education and school psychology to prepare two cohorts of 16 special educators and 14 school psychologists to work with CLD young children with high-intensity disabilities.
Project SES includes a 36-credit master's program in special education and a 60-credit Master of Arts in school psychology for special educators and school psychologists respectively, both with special emphasis given to students from diverse backgrounds with high-intensity needs. Candidates must have earned a bachelor's degree in a related field and a teacher's certificate as a pre-requisite.
To increase the number of doctoral level special education leaders prepared to work in urban and minority serving districts, Project INCREASE will train participants to become high level school administrators in the private and public sectors, such as the Maryland State Department of Education (MSDE), principals, vice principals, superintendents and associate superintendents.
Project INCREASE will prepare 15 scholars with a doctor of education (Ed.D.) in educational leadership with a specific emphasis on special education leadership. The curriculum will include field experiences at local agencies and school districts and research opportunities using evidence-based practices. As a pre-requisite, candidates must have earned a master's degree, possess three years of pre-K - 12 leadership, administrative I/II certificate, and experience in special education.
Each program is funded at $1.2 million from the U.S. Department of Education with Bowie State being the only HBCU awarded competing against some of the leading schools in the country such as Penn State, Vanderbilt, and UCLA. Bowie State University faculty and staff who collaborated on the grants include Dr. Drakeford, PI, Projects SES and INCREASE; Dr. Otis Williams III, chair and associate professor, Department of Counseling and Co-PI, Project SES; Dr. Sean T. Coleman, associate professor, Department of Educational Leadership and Co-PI, Project INCREASE; Dr. Rhonda Jeter, dean, College of Education; Dr. Lynne Long, TLPD Department Chairperson and Director of Field Experiences; and Debra O'Banion, grants manager, College of Education Grants Office.
To learn more about Project SES and Project INCREASE and the upcoming information sessions, contact Dr. William Drakeford at wdrakeford@bowiestate.edu or Debra O'Banion at dobanion@bowiestate.edu or 301-860-3146.
###
About Bowie State University
Bowie State University (BSU) is an important higher education access portal for qualified persons from diverse academic and socioeconomic backgrounds, seeking a high-quality and affordable public comprehensive university. The university places special emphasis on the science, technology, cybersecurity, teacher education, business, and nursing disciplines within the context of a liberal arts education. For more information about BSU, visit bowiestate.edu.