Bowie State University Joins Collaborative Partnership with BGE
15 BSU STEM Majors to Receive $10,000 Scholarships through BGE Scholars Program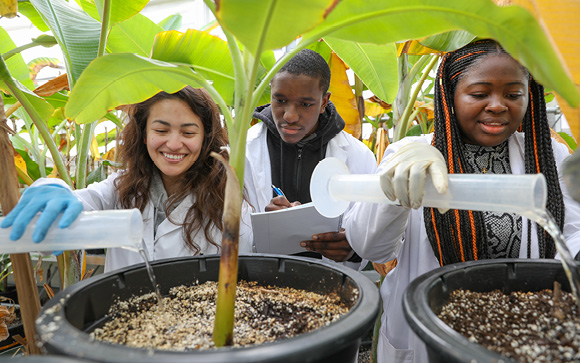 MEDIA CONTACT: Cassandra Robinson, crobinson@bowiestate.edu, 301-860-4336
(BOWIE, Md.) – Bowie State University is one of three Maryland historically Black universities included in a new collaborative partnership with BGE to provide scholarships to students in STEM majors. Each school will receive a $200,000 grant to fund $10,000 scholarships to 15 full-time STEM majors through the BGE Scholars Program.
To become a "BGE Scholar," students must be a Maryland resident, maintain a minimum 2.8 GPA, major in a STEM field, and demonstrate financial need. Scholars will participate in career enriching activities with BGE mentors, internships and job shadowing opportunities.
"This partnership with BGE will have a tremendous impact on the lives of Bowie State University students in the STEM disciplines who will be supported with merit-based scholarships as well as leadership and career development opportunities to position them for success after graduation," said Bowie State University President Aminta H. Breaux. "We commend the foresight of BGE to also provide resources to help any student close small, non-tuition-related financial gaps and unexpected challenges that too often hamper their ability to persist and graduate. Supporting the development of our students will pay dividends for the future economic viability of our state and nation."
An additional $50,000 will be used to fund persistence grants at each school, and is available to any student to cover costs that might interfere with a student's ability to continue college, such as text books. BGE and the universities will also work to build their partnerships beyond financial support to help advance diversity, equity, and inclusion in Maryland.
"BGE recognizes the role that HBCUs play as anchor institutions and in creating opportunity for economic equity and mobility, leading and supporting community development efforts, and supporting students experiencing systematic and generational marginalization," said Rodney Oddoye, BGE's senior vice president of governmental and external affairs. "Because of this, BGE has deepened our focus on supporting our region's HBCUs which are uniquely positioned to directly and dramatically impact communities of color."
BGE's partnership with local HBCUs, including BSU, Morgan State University and Coppin State University, is aligned with Exelon's broader effort to support HBCUs via a partnership with the United Negro College Fund.
###
About Bowie State University
Bowie State University (BSU) is an important higher education access portal for qualified persons from diverse academic and socioeconomic backgrounds, seeking a high-quality and affordable public comprehensive university. The university places special emphasis on the science, technology, cybersecurity, teacher education, business, and nursing disciplines within the context of a liberal arts education. For more information about BSU, visit bowiestate.edu.