Freshmen Take First Steps toward Becoming BSU4Life
Torch becomes Students' Touchstone for Success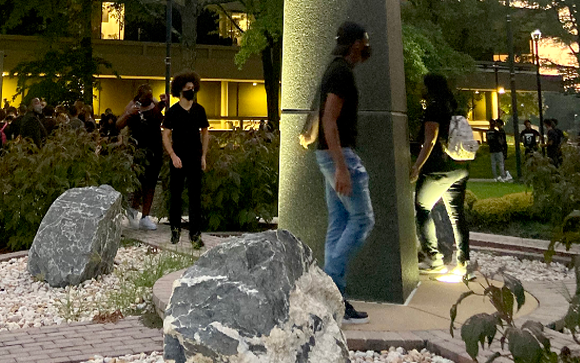 MEDIA CONTACT: Cassandra Robinson, crobinson@bowiestate.edu, 301-860-4336
(BOWIE, Md.) – The journey from new freshmen to proud alumni became clearer to the Class of 2025 in their first days on campus. A new Journey Ceremony and Day of Engagement, developed by the Division of Student Affairs, introduced students to the "Torch of Truth" described in the alma mater as their touchstone for success.
Beginning a new tradition, nearly 400 freshman and transfer students learned the meaning of BSU4Life and discovered their connection to the BSU eternal flame torch. Student leaders led them on a journey through the history of Bowie State University; continued on to introduce them to notable alumni of today; and journeyed to explore the future that is being created by recent advancements in university programs including opening of the new Entrepreneurship Living Learning Community, which some of them call home. A Journey Pledge: #BSU4Life, written by SGA President Jatiya Stewart, provided the framework to guide their matriculation through the university.
The Journey Ceremony, organized by Tubman Hall Resident Director Jaime Mercer, was designed to help new students visualize their place in the legacy of Bowie State. "I said to the students, 'Today we light the torch that begins your journey as a Bowie State University Bulldog. It is your responsibility to make sure your light never goes out.'"
To solidify their connection to the torch, each student walked around the base of the eternal flame, making physical contact as they voiced a commitment for their success as a Bulldog.
To jumpstart their commitment, the Day of Engagement enabled students to match their interests with university program opportunities in three areas: advocacy, fine and performing arts, and athletics/intramurals. They could also complete a self-assessment to identify an activity they may want to create.
"Our goal was to have students actively explore and commit to taking the first steps to become involved with a campus activity, said Dr. Demetrius Johnson, vice president for Student Affairs. "We know that actively engaged students become our most successful students."
###
About Bowie State University
Bowie State University (BSU) is an important higher education access portal for qualified persons from diverse academic and socioeconomic backgrounds, seeking a high-quality and affordable public comprehensive university. The university places special emphasis on the science, technology, cybersecurity, teacher education, business, and nursing disciplines within the context of a liberal arts education. For more information about BSU, visit bowiestate.edu.