Innovation Takes Center Stage During Research Week
First-ever Virtual Event Recognizes Research Excellence Despite Pandemic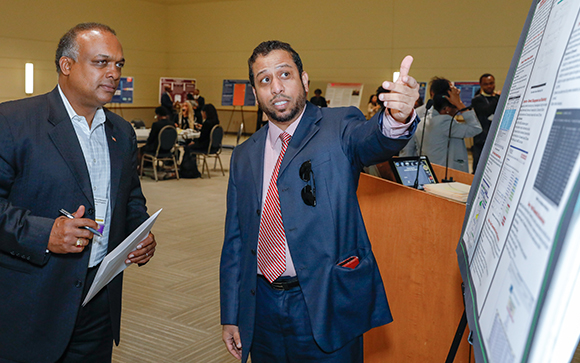 MEDIA CONTACT: Damita Chambers, dchambers@bowiestate.edu, 301-832-2628 mobile
(BOWIE, Md.) – Despite the challenges of the COVID-19 pandemic, Bowie State University faculty and student researchers who adapted to a virtual environment will display their cutting-edge research at the first-ever virtual Grants Expo & Research Week, April 19-23. View the entire week of events at bit.ly/BSUResearchWeek.

Every year, the Office of Research & Sponsored Programs recognizes excellence in research and provides workshops to help researchers secure funding and technical assistance during the grant expo and research event. For the first time this year, not only is the event being held virtually, but it has been expanded to a weeklong set of events to inspire, support and recognize research at Bowie State.

About 30 researchers from a variety of disciplines, including STEM, business and human services, will present their discoveries to a virtual audience. Among the researchers making oral presentations will be students working with faculty mentors this academic year in the Semester-based Undergraduate Research Institute.

"The progress we are having with research, grants and contracts is a testament to the dedication of our Bowie State community to engage in research and provide our students with real-world opportunities," said Dr. Anika Bissahoyo, Bowie State's assistant vice president for research.

Hosting the event virtually means that more people can celebrate innovation coming out of Bowie State. It also provides a platform to preview what is to come, as the university enhances the capacity to support advanced research, innovation and commercialization.

Faculty, staff and students can learn more about how Bowie State is supporting researchers to commercialize their research and creations in an April 22 session on the new Innovation & Technology Transfer Initiative, sponsored by the Office of Research & Sponsored Programs and the Entrepreneurship Academy. In addition, faculty and staff researchers looking for ways to expand their work can schedule one-on-one sessions with American Association of State Colleges and Universities (AASCU) representatives to learn how to access AASCU's grant resources.

The April 23 awards recognition ceremony will highlight top researchers and their work and feature informative talks by Dr. Claudia Rankins, a former National Science Foundation program officer, and Dr. Grant Warner, director of innovation for Howard University's College of Engineering & Architecture. The speakers will explore trends and best practices in taking research and innovation into the marketplace.

The virtual Grants Expo & Research Week may look different this year, but it reaffirms the foundation of academic and research success that defines Bowie State.


###
About Bowie State University
Bowie State University (BSU) is an important higher education access portal for qualified persons from diverse academic and socioeconomic backgrounds, seeking a high-quality and affordable public comprehensive university. The university places special emphasis on the science, technology, cybersecurity, teacher education, business, and nursing disciplines within the context of a liberal arts education. For more information about BSU, visit bowiestate.edu.